Furniture that Lasts a Lifetime

Custom Furniture Store Serving Magnolia, TX

A boutique store for custom-built solid wood and upholstered furniture made in America.

Visit the Store


Download Design Guide



Forever Furniture
Designed to last for generations.
American Made
Built and manufactured 100% by expert U.S. craftsmen.

Custom Built
Your Style - Your Dream - Your Space
Custom Designed Furniture

3 Steps to Get the Room of Your Dreams

1.

Talk to a Designer

Completely free, no pressure collaboration with a designer. You can meet over the phone, in the store or a video call.

2.

Customize Your Furniture

You choose the wood, stain, style, upholstery. We'll help!

3.

Get it Built & Delivered

Expert craftsmen hand-build your furniture and we white-glove deliver it to your home.
Modal Popup - ID
Click here to edit the "Modal Popup" settings. This text will not be visible on frontend.
Beautiful furniture and a great sales team to work with to help make decisions on the best furniture for our home!
~ Claire Bassett ~
Absolutely wonderful store. Excellent merchandise. Outstanding service. I'm going back. This store is a find. You won't be disappointed ?
~ Kathy Engle ~
Just enjoying my purchase that made me do lots of shopping around for. I'd like to say that I appreciate the quality of the material: real wood.
~ Dianna Scurry ~
Most furniture is mass-produced, but your needs and style are unique, so your furniture should be too.

The Amish Craftsman is different than a typical big-box furniture store. We offer many custom furniture pieces on our showroom floor, but if you don't see the style or design you want, we can custom-make your perfect piece of furniture.
You can start with one piece or a whole room. Tell us a little bit about your project and we can get started!
We are not your typical big-box furniture store. We build custom furniture for the Magnolia area to fit your needs and your home.

We know shopping for furniture can be stressful sometimes - finding the style, colors, and design that fits your home can be challenging.  At other furniture stores, you walk in and get overwhelmed (or in some cases underwhelmed) - kind of like searching for a needle in a haystack. It's different here.

You deserve furniture that works for you and fits your needs.

That's why we build it custom, just for you.

Our sales rep helped us to choose our furniture.  He was extremely professional and patient as we went back and forth on measurements and designs. He was also aware of helping us stay within our budget. I would recommend The Amish Craftsman completely--an excellent experience.
~ Holly Burner ~
We ordered a dining room table exactly how he wanted it. The size, wood, finish, and chairs were exactly what we needed for our space. The craftsmanship is amazing. We couldn't be happier with the perfect dining room table for our house!
~ Chewy Redding ~
My sales representative was great. I love this place. The items are beautiful! Great craftsmanship! A bit pricey but beautiful work. Wish it was a bit less but a great decision to make. Should last for many years. Hopeful for my table to become an heirloom for my family
~ Napoleon Molina ~
Quality home furniture in Magnolia designed to last a lifetime.

We know you want your furniture to last a lifetime and be something to pass on to your children. That's where we come in. Our company's mission is to make sure your furniture goals and dreams come to life. This furniture is built to last generations, and we look forward to being friends for a very long time.
Our Hardwood Furniture

Our American made solid wood furniture is built by Amish craftsman and finished by hand. We have dining, bedroom, office and living room hardwood furniture available in many designs to complement your home and lifestyle. We build in 7 American hardwoods and offer over 20 stain choices, and are sticklers for quality and craftsmanship.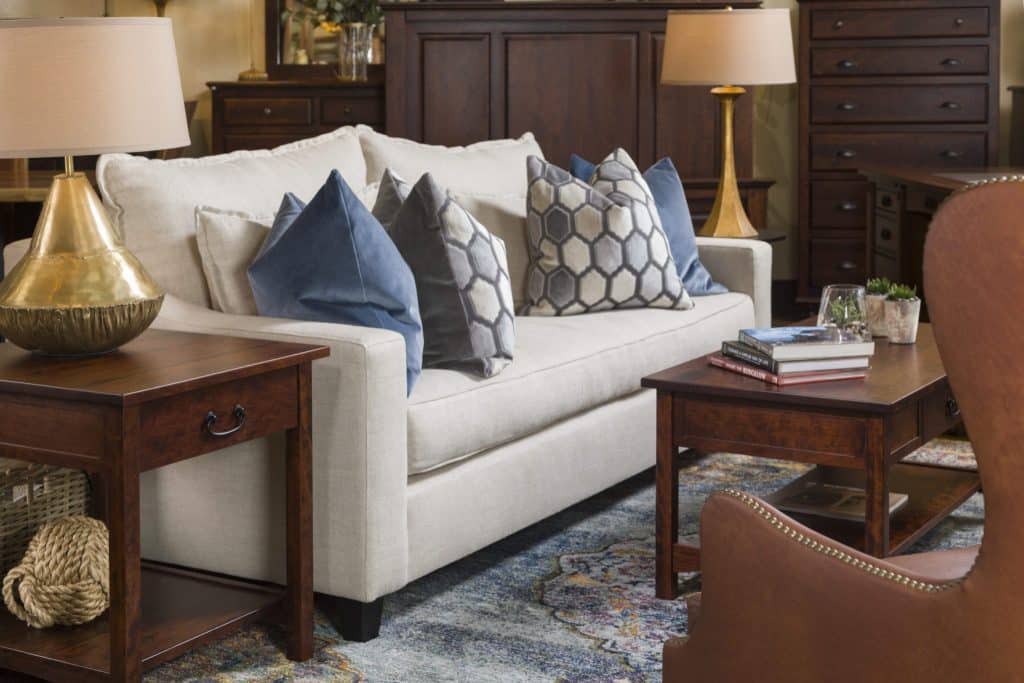 Our Upholstered Furniture

Our upholstery is known for its quality, style, durability and comfort. Sofas, loveseats, chairs, chaises, sectionals, and ottomans are all made to order and available in many sizes, fabrics and leathers. Each piece is handcrafted in Los Angeles, California.
Frequently Asked Questions

Is Amish Furniture made with solid wood?
Yes, our furniture is made of solid milled hardwoods. Come see for yourself - this is how furniture should be built!
How do I take care of Amish Furniture?
What is your warranty for Amish furniture?
We stand behind every piece of furniture that we sell.  If there is a craftsmanship issue, we take care of it. It's that simple. Craftsmanship defects simply aren't what usually goes wrong.
Most of the time, the problem instead stems from "accidents."  Things like my toddler wrote on my leather sofa, my housekeeper banged my table leg with the vacuum, and it's dented.
For moments like this, (which we call life), we offer Guardsman Complete Furniture Protection.
When you invest in new furniture like this, you want to keep it looking great for as long as possible. This furniture protection plan gives you total peace of mind. Whether your furniture is fabric, leather, or wood, all damage and stains are covered by the Guardsman Gold Complete Furniture Plan.
There are no loopholes or "gotchas," AND if you invest in the protection and don't end up using it in 5 years, call us, and you will get your money back in the form of an in-store credit. 
What is the "happiness" guarantee with your furniture?
Our warranty starts with something called our "happiness guarantee," which is precisely what it sounds like.  We understand that this is an investment and important to you and your family.
This furniture goes directly into the most cherished spaces in your home.  If something isn't right, we pledge to make it right. If you order it and don't love it, we will reorder something you do love.
We take the risk and worry out of buying new furniture. Amish furniture is built to last, and we want you to have a lasting feeling that you've bought something you love.
What kind of wood is used in Amish Furniture?
Our craftsmen build in red oak, quartersawn white oak, cherry, hickory, walnut, brown maple, and hard maple. All hardwoods are commercially managed and sustainably harvested from the United States and Canada.
How do I order my furniture for the Magnolia area?
The process is simple. First, you pick your design - either from our showroom or from one of our catalogues. Next, you pick your wood and your stain. Lastly, we finalize your order and send it to the builder who begins construction. Then it's just a matter of time before you receive your custom made Amish furniture. Most importantly, we will walk with you every step of the way. We know this decision is an important one, and we want to help you find your best fit!
How long does it take to order custom furniture in Magnolia?
Our lead time for your custom-built furniture in the Magnolia area is 12-16 weeks. We know that you are anxious to start enjoying your new Amish furniture and we make every effort to get your furniture to you as soon as possible. However, custom quality does take some time. Your handcrafted furniture is not built until you place the order. Each piece is built for you and built to last.
If you want your furniture now, you can always choose a piece from our showroom that can be shipped immediately.

Have More Questions? Talk to a designer.

Click to see our Furniture care tips

Design Smarter:

The Foolproof Guide To Designing Your Dream Space

Download the Free Guide and learn the 5 simple steps to help you create a home that you'll love.

Learn More About Our Hand-Made
Custom Furniture

Click here to read more...

As A Homeowner In Magnolia, TX
You want quality furniture for your home that is designed with comfort, durability, and fashion in mind.
You've probably had this experience before: You buy a cheap piece of furniture that wears out or gets grungy in a few years. Or you purchase something and then decide it isn't the timeless piece you really wanted after all.
You deserve furniture that reflects your style and individual taste. At the Amish Craftsman, we offer expertly crafted pieces of furniture for Magnolia, TX for any décor with a lifetime guarantee! You'll find an incredible selection of high-quality custom made furniture to fit every need in your home - including items priced for everyone's budget. We're dedicated to providing our customers with quality products at reasonable prices while still maintaining traditional craftsmanship skills from generations past.
It's not easy to find furniture that you love and is also designed to last. We know the struggle of buying a new couch every few years because it wears out, becomes uncomfortable or even starts fading. This isn't just frustrating for homeowners; it's bad for their wallet too! At The Amish Craftsman we want your home to be filled with pieces that are expertly crafted and built-to-last so you can enjoy them comfortably and confidently in all seasons for many years. How do our products compare? Our wood furniture uses solid hardwood frames instead of veneers like other competitors which means they won't wear down over time. This is solid furniture for lifetimes of use.
You can enjoy quality furniture designed to last for many years.
Have peace of mind knowing that the furniture you are bringing into your home is not only beautiful and matches your style, but it is also designed and crafted for long-term durability and comfort.
If you are ready for your handcrafted, custom furniture in Magnolia, TX, that lasts a lifetime, then schedule a visit to our showroom or a virtual appointment and talk to one of our furniture specialists today!
Our furniture quality and customer service speak for themselves:
Dana Sutton: "Purchased a beautiful table from Amish Craftsman. The staff was wonderful in helping us pick out style and type of wood and finish. Ordered at the very beginning of covid. The store was very proactive in letting us know about the slight delay due to the furniture makers not being able to work due to initial shutdowns. We have the table now and love it! The quality and finish is fantastic."
Diane Riley: "Our salesperson and the owners were there to help us as we selected our furniture. This was at the time of the Covid-19. All were extremely careful and courteous and very helpful. We felt safe and well taken-care of. We found just what we wanted and delivered on time. We will highly recommend them to our friends. The furniture is beautiful, life lasting and comfortable."
Areas We Serve...
We serve many areas in Texas and Louisana, including delivery all along the I-10 corridor in Southeast Texas and Southern Lousiana.
We serve the following areas with our custom furniture:
Texas
Louisiana
And many more surrounding areas!
Home Furniture Store in Magnolia, TX...
When most folks think of "Magnolia" in Texas, they probably think about Chip & Joanna Gaines' destination/company up in Waco, but there is in fact a microtown called Magnolia that is perched on the outskirts of Houston, TX and has a long history:
The first settlement in the Magnolia area was a town named Mink Prairie, founded in about 1845 when a farmer named Mink built a homestead. By 1850, the town's name was shortened to Mink. After the Civil War, Mink's population swelled due to an influx of settlers from Kentucky and Tennessee, resulting in a post office being built in 1885. In 1902, the International-Great Northern Railroad (now operated by Union Pacific), decided to build a railroad to the north of Mink, causing most of the residents of Mink to move closer to the railroad line. The new town was named Melton in honor of a wealthy landowner who lived in the area. However, the postal service kept confusing the name with a different town called "Milton," prompting local officials to change the name to Magnolia. In 1903, the Mink post office moved to the new town of Magnolia, as the old town of Mink would soon become abandoned.
The City of Magnolia describes itself this way:
Magnolia, Texas is located in southwest Montgomery County, nationally ranked as 7th in growth among U.S. counties.  A short drive from Houston, Magnolia is poised for expansion with the arrival of the SH 249 Toll Way and major corporations like ExxonMobil moving into the area. At the crossroads of progress Magnolia is still a place where neighbors help neighbors-a place to call home or grow your business.
While the city of Magnolia itself only has a population of 2093, because it is situated in the dense suburban sprawl of Houston, its surrounding populace is much larger:
With over 138,000 residents living in and around Magnolia, businesses have a significant talent pool from which to draw from for their operations. Companies also have a wide assortment of land development options ranging from commercial centers to stand-alone buildings to large undeveloped tracts. 

The Magnolia area is far enough removed from the metropolitan hustle and bustle, but still in close proximity to everything you need to remain healthy, happy and connected. As more people and companies have chosen and continue to choose this community for their homes and businesses, the city of Magnolia, along with Montgomery County and other entities, have developed a supporting infrastructure that meets the vital needs of the region.
Trip101 lists the Top 10 things to do in Magnolia:
Lone Pint Brewery
The Historic Depot
High Meadow Ranch Golf Club
Unity Park
The Magnolia Stroll
Farmer's Market on Tamina
The Crawfish Joint
Patron Azteca
The Market
Planet Beach and Spa
TripAdvisor has some more ideas.
We provide high-quality furniture and delivery services for all zip codes in Magnolia, TX, including but not limited to: 77353, 77354, 77355
Information courtesy of The Amish Craftsman, 5555 Washington Ave Suite M, Houston, TX 77007