Custom Built - American Made - Forever Furniture
We are a boutique store for custom-built hardwood and upholstered furniture. Let us help you create the home you want with furniture that lasts a lifetime.
The Room Where Work Gets Done
When you need to concentrate, you need a space that puts you at ease and furniture that makes you happy. Our hardwood office furniture is built to last and customized just for you, so you know it will be perfect for your needs.
See What's Possible For Your Office
The cornerstone of any significant office is its desk. Sure, it's where work happens, but it's also a place where you can gather your thoughts and have a moment of stillness after a long day at work. 
Through pleasing design aesthetics, quality hardwood, and professional staining, our desks are guaranteed to give you that place of peace you've been yearning for. Whether you're looking for a space to work from home, or you want a spot to finish the great American novel, talk to us about a desk that's more than just furniture -- it's a part of your story. 
Visit our showroom and meet with a design consultant to get started on creating your dream dining room.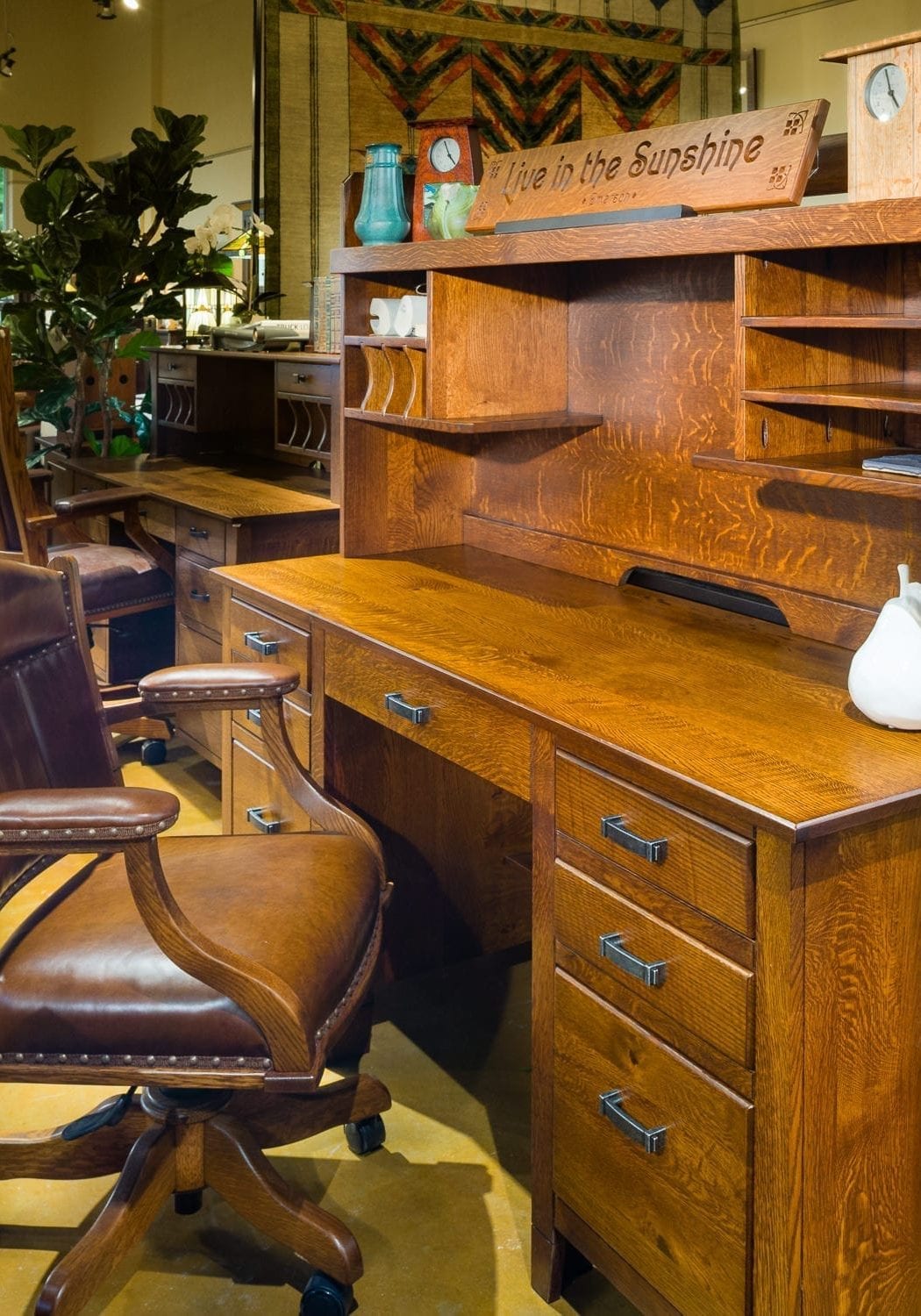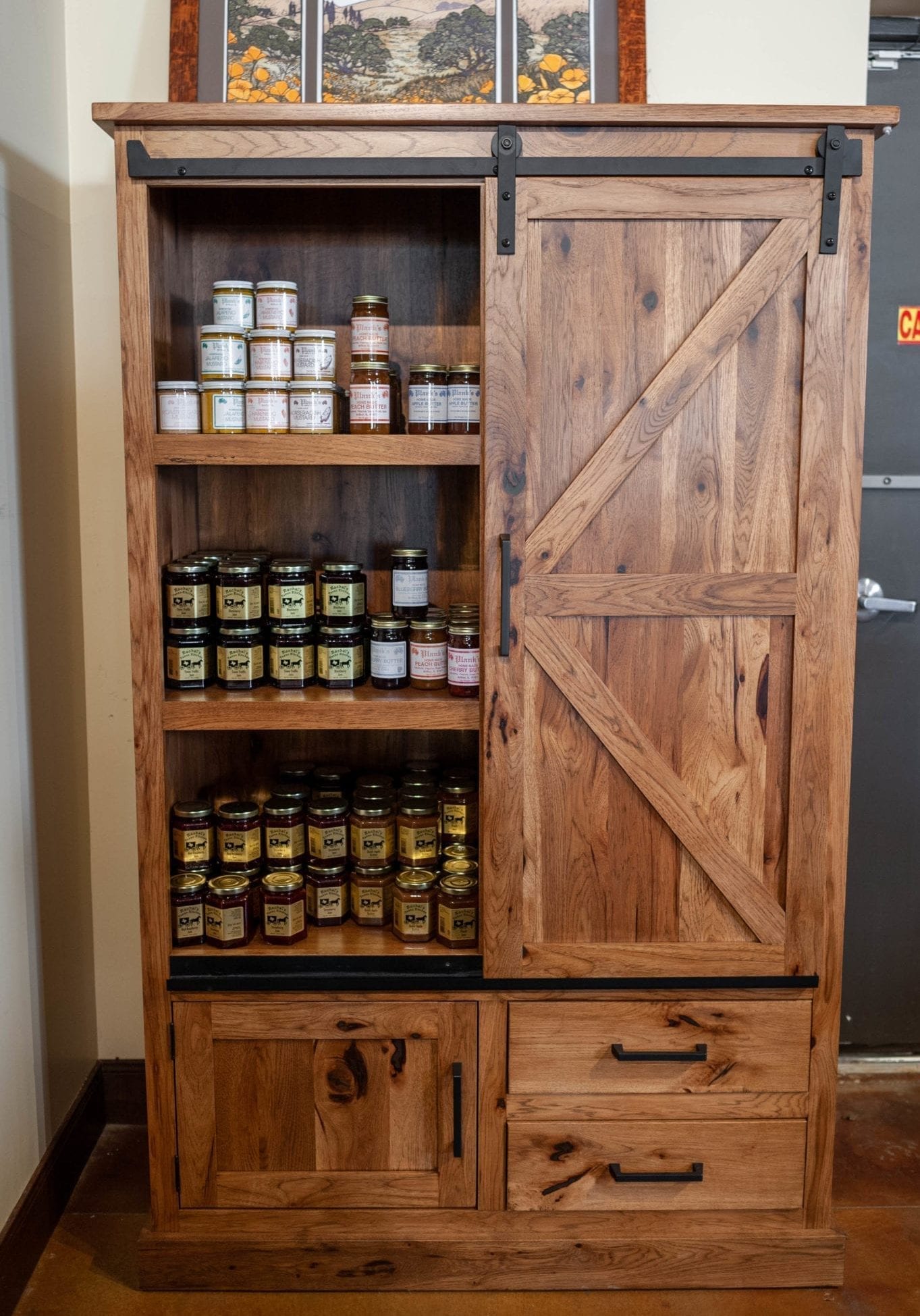 A well-made bookcase can be just the thing to take your office from a former extra bedroom vibe to a stately looking study. 
This is more than a place to display your books; it's a way to show who you are, to the world, and yourself. A well-planned study or library is a reflection of the person who designed it. Our bookcases, custom-built and professionally stained, are a great way to show the world what you cherish and value -- the refinement, uncomplicated excellence, and uncompromised quality of an American classic. Make no mistake, that's precisely what you're getting here: an American classic.
Visit our showroom and meet with a design consultant to get started on creating your dream dining room.
Inspiration can strike in weird places, but it's most often to happen when you're in the zone. You want a chair that can get you there. 
Our chairs are made from high-quality hardwood, either upholstered or unadorned. Handcrafted and built to last, these are sturdy chairs that don't compromise on comfort and ergonomics. It's true craftsmanship that can be seen and felt every time you use it. It's just pure, good seating. No slackers here. Isn't it time your chair works as hard as you do? 
Visit our showroom and meet with a design consultant to get started on creating your dream dining room.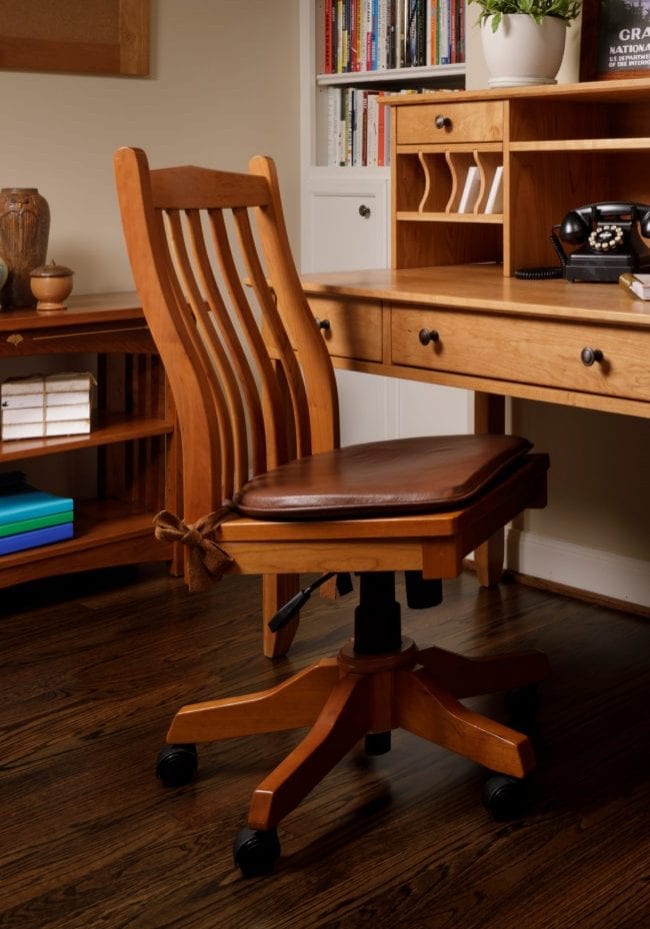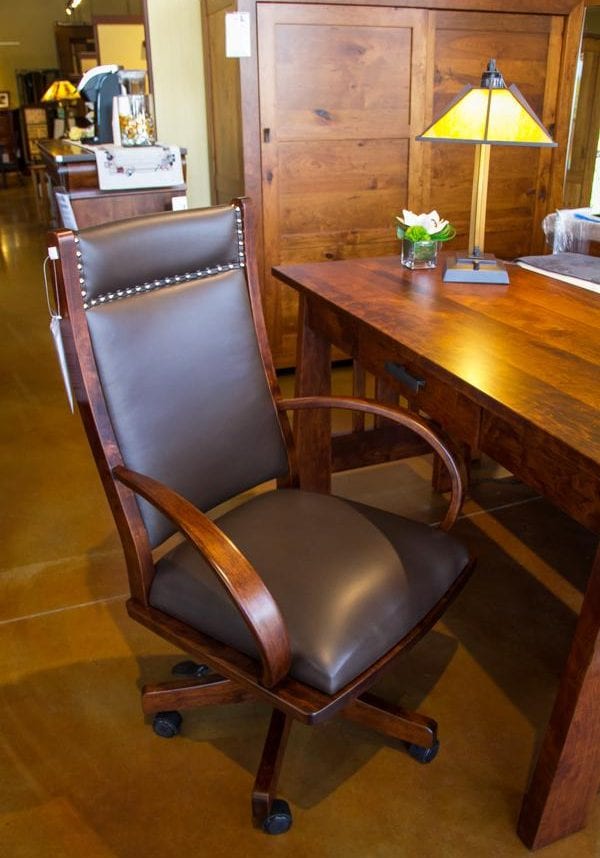 Frequently Asked Questions
You can absolutely upholster your Amish chairs so that they come with fabric or leather seats. There is a misconception among some that "Amish" refers to a style of furniture and not the way in which it is built. Amish craftsmen are proficient in a number of different styles and techniques. At the Amish Craftsmen, you can choose from a number of different fabrics and leathers OR bring your own material to us if you prefer that. We will let you know the amount needed to do the job and return any excess material to you upon completion of the furniture.
Yes, we have many roll-top desk options.  We have different styles and different configurations that we can match to your needs. Roll-top desks can work in most home offices, and add a bit of elegance and decorum to any work setting. These are beautiful handmade pieces that will stay in your family for generations, but with fun updates and custom desk options like drawer locks, file drawers, keyboard pullouts, and more. Just ask our designer consultants about your options. The possibilities are endless.
Amish furniture is a great way to transform either a home office or a commercial space.  In addition to being high quality, Amish furniture can be made in a variety of styles to fit whatever your room needs. Whether you're looking for a smart, transitional look, a more classic or traditional style, or more of a Mission and Arts and Crafts look for your office, our furniture is built to last longer than other mass-produced furniture found in the big box stores.  Our design consultants can help you create a beautiful and functional space to work in, at home or in the office.
Your Amish office furniture can be delivered. We offer delivery to the greater Houston area as well as to Austin and San Antonio, Southeast Texas, and Southern Louisiana. We take pride in delivering our furniture without any dents, dings, or scratches. Your furniture is inspected multiple times before you receive it. If you live out of state, we have a network of freight companies throughout the US that specialize in furniture delivery. We've had happy customers get their furniture delivered everywhere from Maine to California. The delivery process is your last impression of our store -- we want it to be a great one.
Our warranty starts with something called our "happiness guarantee," which is precisely what it sounds like.  We understand that this is an investment and important to you and your family. This furniture goes directly into the most cherished spaces in your home.  If something isn't right, we pledge to make it right. If you order it and don't love it, we will reorder something you do love. We take the risk and worry out of buying new furniture. Amish furniture is built to last, and we want you to have a lasting feeling that you've bought something you love.