Custom Built - American Made - Forever Furniture
Store Hours:
Monday-Saturday
10:00am-6:00pm 
Your Sanctuary in the Whirlwind
Your bedroom is your sanctuary when life is overwhelming. You deserve quality bedroom furniture that is built to last and brings you peace.
See What's Possible For Your Bedroom
Make your bedroom a sanctuary by giving it the statement piece it deserves. A bedframe is an investment in you, your sleep, and, ultimately, your life.
The perfect mattress only matters if you've got a solid foundation on which to put it. Our bed frames come in every size and use premium hardwood like cherry, walnut, or red oak to create a space that's warm, inviting, and personal. These frames are sturdy, dependable, and long-lasting -- and like a night of good sleep after years of sleeplessness, you'll immediately feel the difference.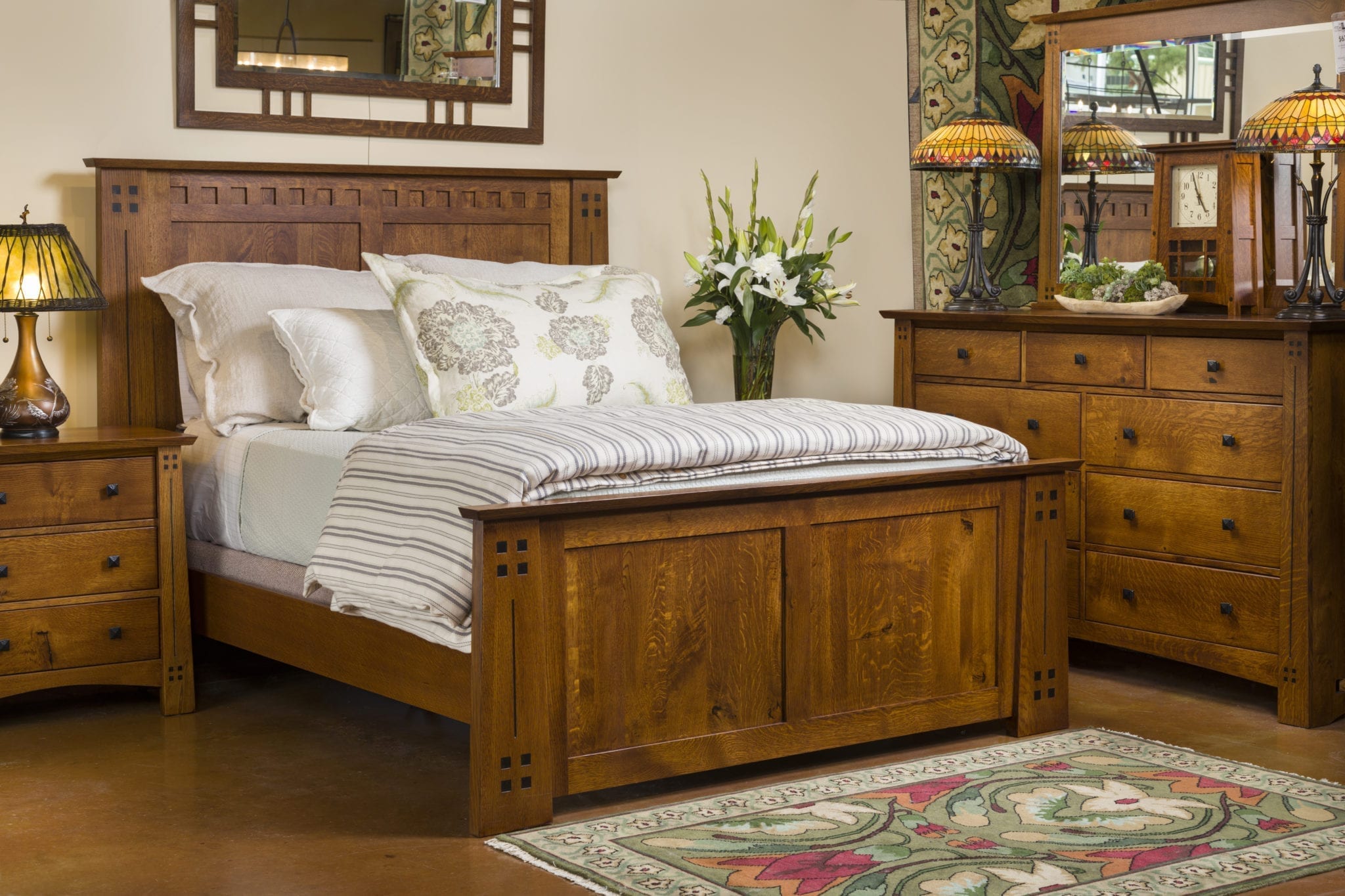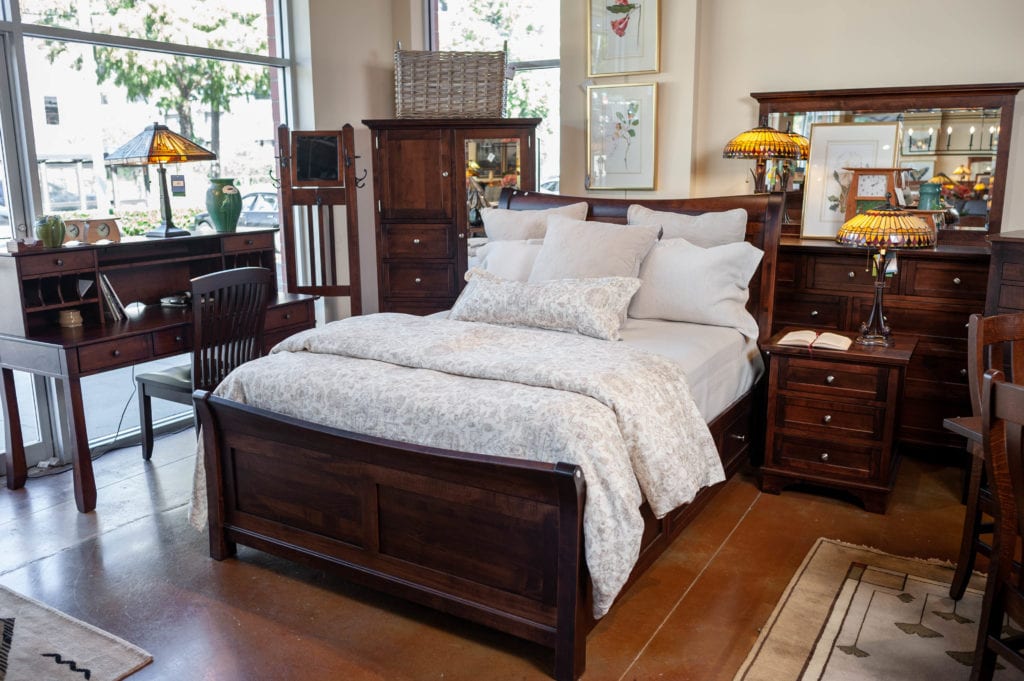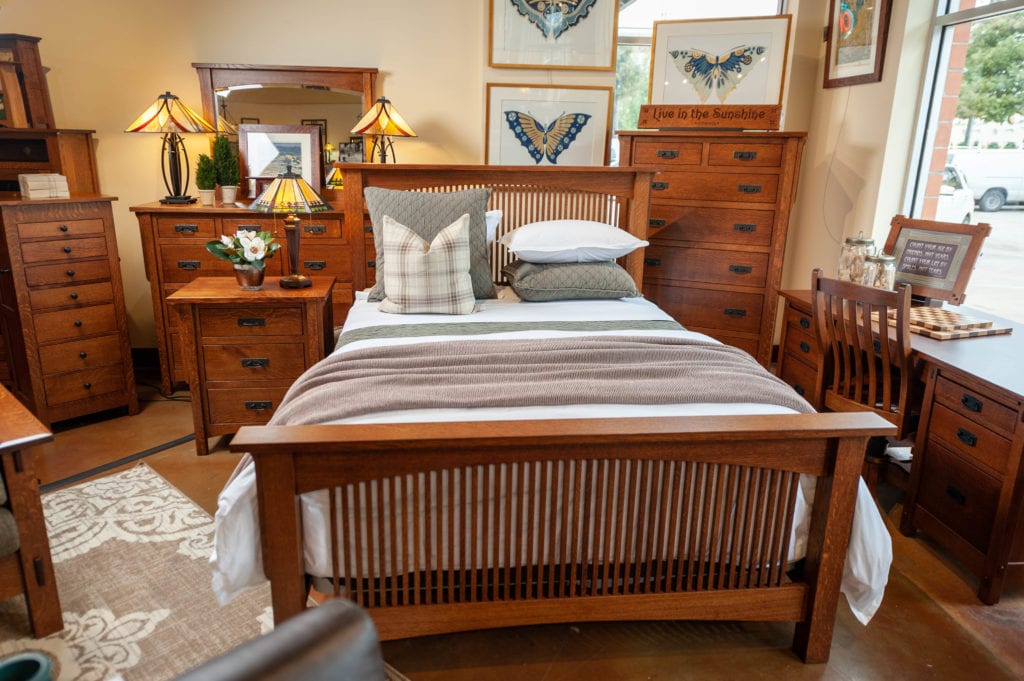 The furniture is gorgeous, good solid wood, and worth every penny. The entire experience was great from picking it out to the delivery which was several weeks ahead of schedule. Very happy customer!!
~ Sherry Reid Tomlinson ~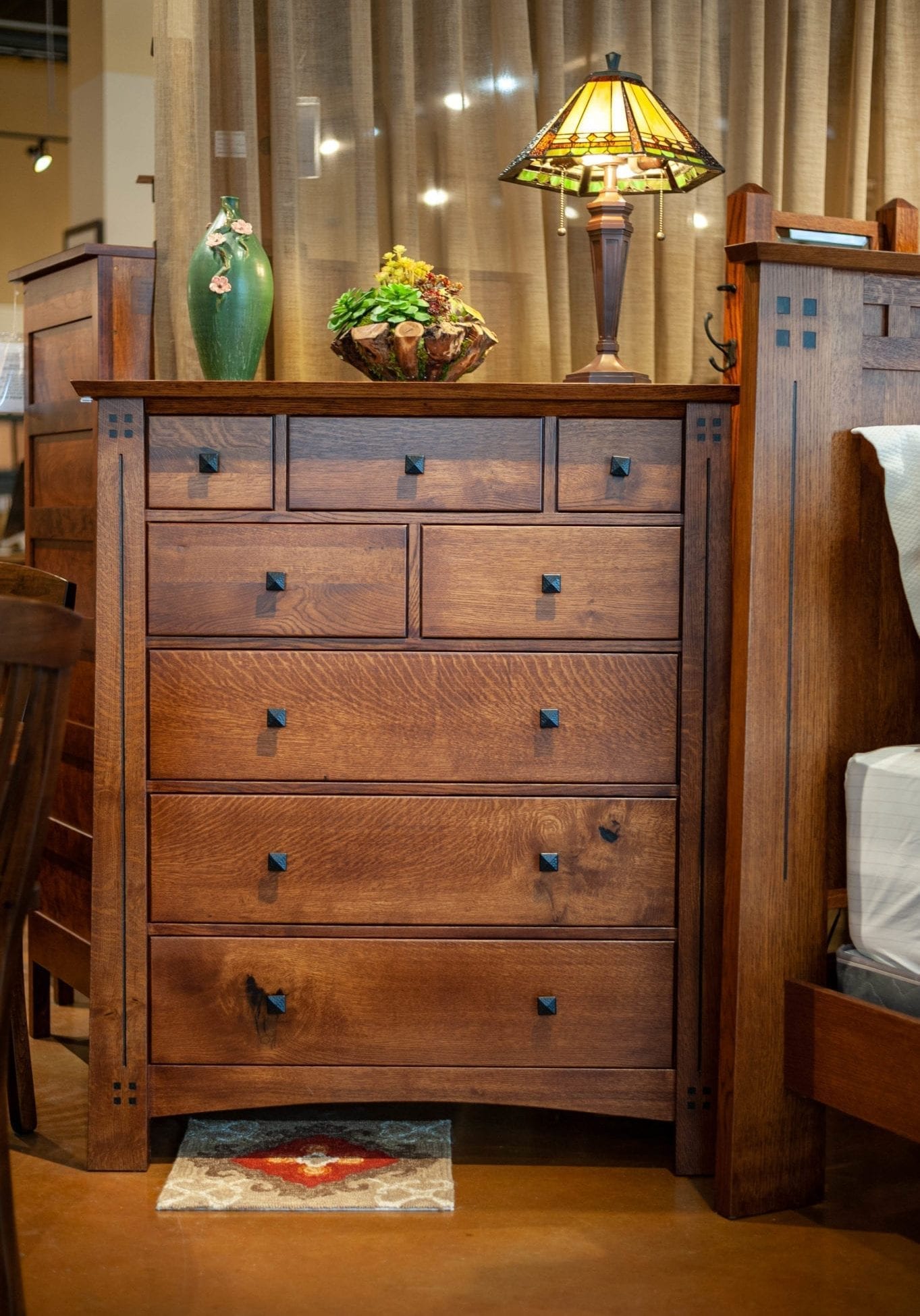 Dressers, Chests, & Armoires
Dressers & Chest of Drawers
An excellent dresser is more than a place to put your clothing and linen -- it's a record of your family history and a reminder of the rejuvenating power of home. 
That's not to say it has to be showy -- a great dresser should have ample space, always open smoothly, and match the aesthetics of the rest of your bedroom.  We can take the guesswork out of choosing a dresser, pairing it with a bedframe, armoire, or nightstand so that you get a bedroom that gives a bespoke look and feel to the most intimate room in your house.
Armoires are a great way to deal with the perpetual not-enough-closet-space problem that seems to plague all of our bedrooms. 
An armoire is a sleek alternative to hassled construction projects or room redesigns, giving you a great place to show off and organize your essentials. It's an excellent option for easy access to seasonal clothing, or grouping together specific accessories like shoes or handbags. Whether you're looking for a place to put the shoe collection or want a way to finally get organized, the armoire is a great way for fashion and function to come together in your bedroom. 
A footboard chest at the end of the bed is like an old friend -- there when you need them. 
A great footboard chest straddles the line between practical and stylish. They provide a great place to sit and kick off your shoes after a long day of work and a place to store extra linens. It's also a great way to provide a little visual flair to the otherwise empty space directly in front of your bed. We take great care to make sure that your footboard chest matches perfectly with the rest of your bedroom furniture -- giving your room a uniformed look that's uniquely you. 
Frequently Asked Questions
An Amish bed frame is made of solid wood. That alone separates us from most other beds out there. Unlike other bed frames that are made from cheap metal and wobble after a few short months, Amish bed frames are designed to be a dependable furniture staple of your bedroom for years to come. This is because our craftsmen use solid wood and joint construction in the production of their bed frames. Our craftsman uses wooden slats, rails, and additional support legs.  These rails are then attached with metal plates. Long story short? Our beds don't wobble, ensuring that you're getting a superior night of sleep, every single night. As far as wood options, our beds come in red oak, quartersawn white oak, cherry, walnut, hickory, brown maple, and hard maple – all beautiful hardwoods that can add beauty to your bedroom.
Yes, an Amish bed frame can with an adjustable base -- no problem.  Our Amish bed frames can work with just about any type of support. Give us your basic dimensions for your bed. Depending on the mattress and the base, our craftsmen can work with you to create a bed frame that will fit an adjustable mattress.  Just be sure to let your design consultant know so that we can be aware of any small modifications we might need to make. We sell adjustable bases with our mattresses, and all our bed frames fit with those adjustable bases.
Most Amish do not use nails to construct their furniture. Instead, the Amish use a technique called joint construction where the furniture is built using wooden joints built into each separate furniture piece, then fit together. These joints can take many different fo, including dowels, dovetailed joints, mortise and tenon, and reinforcing corner blocks. This technique is different than mass-manufactured pieces that often require cheap staples or nails to make their furniture.  Amish furniture requires the skills of a true craftsman, which is why it is so durable.
Yes, we do sell mattresses. In addition to our Amish-made bedroom furniture (including end tables, bed frames, and dressers), we also offer high-quality mattresses made by the Amish. These mattresses are handcrafted, made to exacting standards, and rank among the finest in the world. They use higher density foams, heavier gauge steel, and more spring coils than you'll find in name brand mattresses. They also include an outstanding warranty that ranks among the best in the business. These are American-made mattresses that come with a 30-day guarantee. See the difference tonight!
No, an Amish bed does not necessitate a box spring. Most sleepers prefer to have a box spring for the added height and support, but it isn't necessary at all.  Our bed frames can be built to accommodate many different mattress styles and types of box springs, as well as platform beds and adjustable frames. These are custom-made to your specifications. Just be sure to let your design consultant know what you'd prefer.