Furniture that Lasts a Lifetime

Custom Furniture Store Serving Jersey Village, TX

A boutique store for custom-built solid wood and upholstered furniture made in America.

Visit the Store


Download Design Guide



Forever Furniture
Designed to last for generations.
American Made
Built and manufactured 100% by expert U.S. craftsmen.

Custom Built
Your Style - Your Dream - Your Space
Custom Designed Furniture

3 Steps to Get the Room of Your Dreams

1.

Talk to a Designer

Completely free, no pressure collaboration with a designer. You can meet over the phone, in the store or a video call.

2.

Customize Your Furniture

You choose the wood, stain, style, upholstery. We'll help!

3.

Get it Built & Delivered

Expert craftsmen hand-build your furniture and we white-glove deliver it to your home.
Modal Popup - ID
Click here to edit the "Modal Popup" settings. This text will not be visible on frontend.
My sales representative was great. I Love this place. The items are beautiful!! Great craftsmanship! A bit pricey but beautiful work. Wish it was a bit less but a great decision to make. Should last for many years. Hopeful for my table to become Heirloom for my family.
~ Napoleon Molina ~
Absolutely wonderful store. Excellent merchandise. Outstanding service. I'm going back. This store is a find. You won't be disappointed ?
~ Kathy Engle ~
We ordered a dining room table exactly how he wanted it.  The size, wood, finish, and chairs were exactly what we needed for our space.  The craftsmanship is amazing.  We couldn't be happier with the perfect dining room table for our house!
~ Chewy Redding ~
Most furniture is mass-produced, but your needs and style are unique, so your furniture should be too.

The Amish Craftsman is different than a typical big-box furniture store. We offer many custom furniture pieces on our showroom floor, but if you don't see the style or design you want, we can custom-make your perfect piece of furniture.
You can start with one piece or a whole room. Tell us a little bit about your project and we can get started!
We are not your typical big-box furniture store. We build custom furniture for the Jersey Village area to fit your needs and your home.

We know shopping for furniture can be stressful sometimes - finding the style, colors, and design that fits your home can be challenging.  At other furniture stores, you walk in and get overwhelmed (or in some cases underwhelmed) - kind of like searching for a needle in a haystack. It's different here.

You deserve furniture that works for you and fits your needs.

That's why we build it custom, just for you.

I discovered this store online and drove down to Houston to look at a bedroom set that I liked so much.   Two weeks later, I ordered the set and I just got the set after waiting for 3 months.   I seriously love my bedroom furniture and I'm glad I invested in a great craftsmanship!  I've wanted Mission Style furniture for a long time.   Thank you for helping me make the right decision.   I  hope to buy more furniture later on.
~ Kate Hale ~
Purchased a beautiful table from Amish Craftsman.  Kim was wonderful in helping us pick out style and type of wood and finish.  Ordered at the very beginning of covid.  The store was very proactive in letting us know about the slight delay due to the furniture makers not able to work due to initial shut downs.  We have the table now and love it!  The quality and finish is fantastic.
~ Dana Sutton ~
Sonny helped us to choose our furniture.  He was extremely professional and patient as we went back and forth on measurements and designs. He was also aware of helping us stay within our budget. I would recommend The Amish Craftsman completely--an excellent experience.
~ Holly Burner ~
Quality home furniture in Jersey Village designed to last a lifetime.

We know you want your furniture to last a lifetime and be something to pass on to your children. That's where we come in. Our company's mission is to make sure your furniture goals and dreams come to life. This furniture is built to last generations, and we look forward to being friends for a very long time.
Our Hardwood Furniture

Our American made solid wood furniture is built by Amish craftsman and finished by hand. We have dining, bedroom, office and living room hardwood furniture available in many designs to complement your home and lifestyle. We build in 7 American hardwoods and offer over 20 stain choices, and are sticklers for quality and craftsmanship.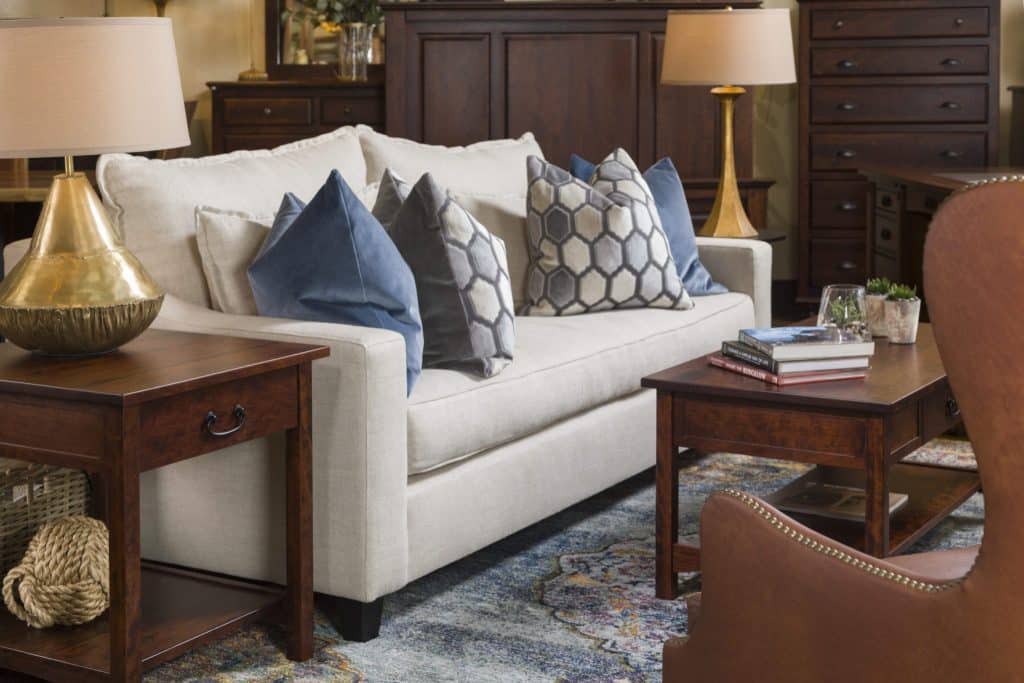 Our Upholstered Furniture

Our upholstery is known for its quality, style, durability and comfort. Sofas, loveseats, chairs, chaises, sectionals, and ottomans are all made to order and available in many sizes, fabrics and leathers. Each piece is handcrafted in Los Angeles, California.
Frequently Asked Questions

Is Amish Furniture made with solid wood?
Yes, our furniture is made of solid milled hardwoods. Come see for yourself - this is how furniture should be built!
How do I take care of Amish Furniture?
What is your warranty for Amish furniture?
We stand behind every piece of furniture that we sell.  If there is a craftsmanship issue, we take care of it. It's that simple. Craftsmanship defects simply aren't what usually goes wrong.
Most of the time, the problem instead stems from "accidents."  Things like my toddler wrote on my leather sofa, my housekeeper banged my table leg with the vacuum, and it's dented.
For moments like this, (which we call life), we offer Guardsman Complete Furniture Protection.
When you invest in new furniture like this, you want to keep it looking great for as long as possible. This furniture protection plan gives you total peace of mind. Whether your furniture is fabric, leather, or wood, all damage and stains are covered by the Guardsman Gold Complete Furniture Plan.
There are no loopholes or "gotchas," AND if you invest in the protection and don't end up using it in 5 years, call us, and you will get your money back in the form of an in-store credit. 
What is the "happiness" guarantee with your furniture?
Our warranty starts with something called our "happiness guarantee," which is precisely what it sounds like.  We understand that this is an investment and important to you and your family.
This furniture goes directly into the most cherished spaces in your home.  If something isn't right, we pledge to make it right. If you order it and don't love it, we will reorder something you do love.
We take the risk and worry out of buying new furniture. Amish furniture is built to last, and we want you to have a lasting feeling that you've bought something you love.
What kind of wood is used in Amish Furniture?
Our craftsmen build in red oak, quartersawn white oak, cherry, hickory, walnut, brown maple, and hard maple. All hardwoods are commercially managed and sustainably harvested from the United States and Canada.
How do I order my furniture for the Jersey Village area?
The process is simple. First, you pick your design - either from our showroom or from one of our catalogues. Next, you pick your wood and your stain. Lastly, we finalize your order and send it to the builder who begins construction. Then it's just a matter of time before you receive your custom made Amish furniture. Most importantly, we will walk with you every step of the way. We know this decision is an important one, and we want to help you find your best fit!
How long does it take to order custom furniture in Jersey Village?
Our lead time for your custom-built furniture in the Pearland area is 12-16 weeks. We know that you are anxious to start enjoying your new Amish furniture and we make every effort to get your furniture to you as soon as possible. However, custom quality does take some time. Your handcrafted furniture is not built until you place the order. Each piece is built for you and built to last.
If you want your furniture now, you can always choose a piece from our showroom that can be shipped immediately.

Have More Questions? Talk to a designer.

Click to see our Furniture care tips

Design Smarter:

The Foolproof Guide To Designing Your Dream Space

Download the Free Guide and learn the 5 simple steps to help you create a home that you'll love.

Learn More About Our Hand-Made
Custom Furniture

Click here to read more...

As A Homeowner In Jersey Village, TX
You want quality furniture for your home that is designed with comfort, durability, and fashion in mind.
How many times have you purchased furniture only to have it break shortly after you purchased it. How often have you wished you had not purchased a piece of furniture because the quality is so poor? Or maybe after bringing your new furniture home you realized that it doesn't quite fit your space.
At the Amish Craftsman we believe that you deserve only the best quality furniture. Our expert craftsman custom design and build your furniture to fit your space. 
Your furniture should last for a lifetime. Don't settle for low quality furniture that doesn't stand the test of time. Choose high quality furniture you deserve that is right for your home and that you can pass on to future generations.
You can enjoy quality furniture designed to last for many years.
Have peace of mind knowing that the furniture you are bringing into your home is not only beautiful and matches your style, but it is also designed and crafted for long-term durability and comfort.
If you are ready for your handcrafted, custom furniture in Jersey Village, TX, that lasts a lifetime, then schedule a visit to our showroom or a virtual appointment and talk to one of our furniture specialists today!
Our furniture quality and customer service speak for themselves:
Emily Hamilton: "My husband and I have bought many pieces of furniture from The Amish Craftsman. We really like the quality and craftsmanship of all of their furniture. While we have looked at other places for furniture in the past, we always end up back at The Amish Craftsman every time. All of the staff and the owners have been great to work with and are very friendly. It feels almost like visiting family when we visit the store. We always have the best experiences with this company."
Dianna Scurry: "Just enjoying my purchase that has made me do lots of shopping around for.   Like to say that I appreciate the quality of material(real wood)and the fact that I'm done with all my looking around(shopping)."
Areas We Serve...
We serve many areas in Texas and Louisana, including delivery all along the I-10 corridor in Southeast Texas and Southern Lousiana.
We serve the following areas with our custom furniture:
Texas
Louisiana
And many more surrounding areas!
Home Furniture Store in Jersey Village, TX...
Jersey Village, TX is a small city of about 7,620 residents according to the 2010 census. It is located in Harris County just outside of Houston. The city's website has this to say:
"If you're a new business considering Jersey Village, or a current business looking to expand, your first stop will be with the highly trained and economic development focused city staff.  Lead by the City Manager, a comprehensive assessment of your business needs will be evaluated regarding your site and building criteria. 
Highly detailed reports on demographics, consumer expenses and labor force can be generated to meet your needs and show the potential for your project to succeed."
Niche.com has this to say:
"Jersey Village is a suburb of Houston with a population of 7,933. Jersey Village is in Harris County and is one of the best places to live in Texas. Living in Jersey Village offers residents an urban suburban mix feel and most residents own their homes. Many young professionals live in Jersey Village and residents tend to have moderate political views. The public schools in Jersey Village are highly rated."
According to Wikipedia, the land that makes up Jersey Village today was the 1,236 acre dairy farm known as F&M Dairy. F&M Dairy raised Jersey cattle. The farm was owned by Clark W. Henry who gave up his land as a residential community when his health declined. The first family moved into the first subdivision in October of 1954. Jersey Village was incorporated on April 16, 1956. By 1980 the city was home to 966 people but by 1982 that number had exploded to 4,084 residents. Jersey Village offers several recreational activities including a golf course, public swimming pool, and a park.
We deliver to the entire Jersey Village, TX area including zip codes 77040, 77041, 77064, and  77065  as well as to many areas beyond.
Information courtesy of The Amish Craftsman, 5555 Washington Ave Suite M, Houston, TX 77007