Custom Designed Furniture
3 Steps to Get the Room of Your Dreams
Talk to a Designer

Completely free, no pressure collaboration with a designer. You can meet over the phone, in the store or a video call.

Customize Your Furniture

You choose the wood, stain, style, upholstery. We'll help!

Get it Built & Delivered

Expert craftsmen hand-build your furniture and we white-glove deliver it to your home.
You don't have to come into the store to get started, we can work with you virtually. Tell us a little bit more about your project and we can get started.
Take photos of your space
Collect inspiration photos
Measure the dimensions of the room
Take the design questionnaire
Completely free, no pressure collaboration with a designer. You can meet over the phone, in the store or a video call.
Virtual, In-Store or In-Home Consultation
Can't make it into the store? No problem! We offer no pressure 15-30 minute meetings with one of our designers to plan the room of your dreams. Sometimes it can feel overwhelming to make decisions on the fly, which is why we will come to you for a complimentary in-home design consultation. Or if you'd rather get started with a virtual meeting, we can set that up too!
Our consultants help you visualize your new furniture in your space so that you can be confident about the dimensions, color, and style that you choose. No room or home is too small or large for our project specialists. Let us help!
As a Certified Design Consultant, I draw upon the problem-solving abilities that I honed over the past decade as a Business Consultant and Wealth Management Professional. No matter what I am doing, my primary goal is to understand my clientele's vision, lifestyle, and priorities. Only by engaging on a human level can I help you connect the dots to bring together the look, utility, and functionality you desire. Getting the job done right from the onset is critical, especially when buying timeless furniture that will last your lifetime. I look forward to helping you bring your vision to a reality!
With a degree in Interior Design and many years of experience, I bring a working knowledge and an attention to detail to your project. Having grown up in the furniture industry, furniture and design are in my DNA, literally. My dad was an award-winning craftsman and my mom had a retail furniture store (where I spent many Saturdays!), so I have a thorough knowledge of (and true appreciation for) high-quality custom furniture. My favorite part of what I do is getting to know my clients and building a relationship with them. Whether you have a problem to be solved or a vision to be realized, I look forward to helping you create a beautiful and comfortable environment in which to live that is unique to you and feels like an extension of your lifestyle and personality.
2. Customize Your Furniture
We take time to understand your furniture problems and help you create a plan for one piece, one room, or your whole house. We will show you options and make recommendations as you choose furniture that fits your home and lifestyle. This is how it works:
Pick A Style That You Love
Browse our website to find styles you like or visit the showroom. We also offer one-on-one appointments.
We offer red oak, quartersawn white oak, brown maple, hard maple, cherry, hickory and walnut.
From light to dark, we've got lots of stain options. You can view the samples in our showroom.
Select Fabric, Leather, and Hardware
We'll help you choose the best fabric, leather and hardware for your project.
3. Get It Built & Delivered
Congratulations! You've picked the perfect piece!  Now, we work with our expert craftsmen to make sure your furniture is perfect, built just for you.
We finalize your order and send it to the builder, who then starts construction. Our lead time for your custom-built furniture is approximately 12 -16 weeks.  While the wait time may be a bit longer than a typical furniture store, but it's worth it. Then we white-glove deliver it to your home where you can enjoy it for generations to come.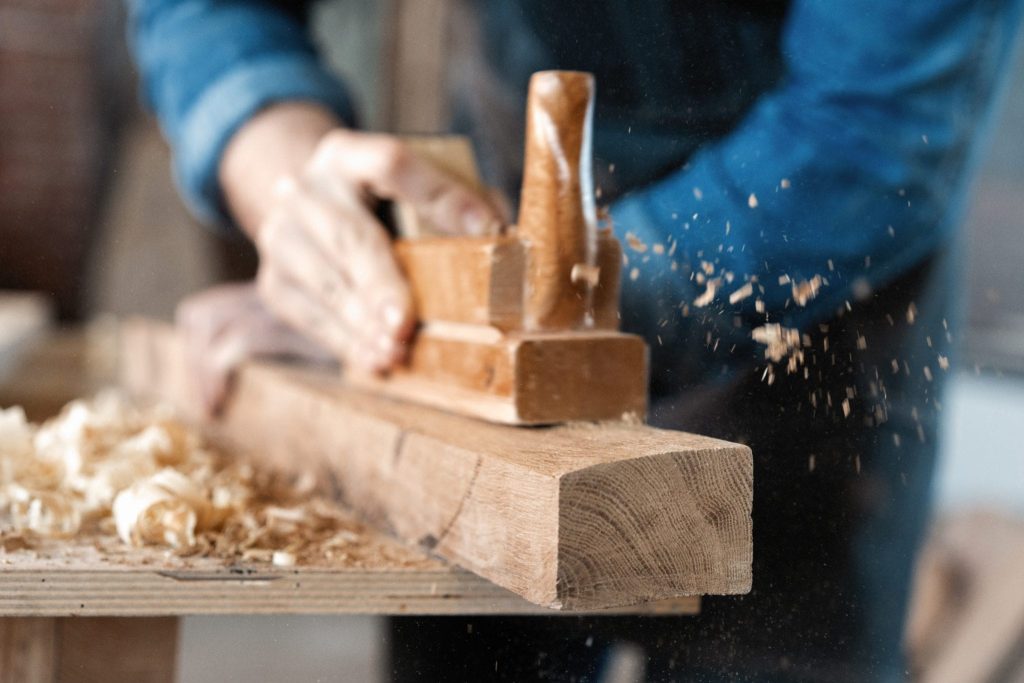 The Amish Craftsman Furniture Gallery