Amish Dining Room Furniture
Custom Built - American Made - Forever Furniture
We are a boutique store for custom-built hardwood and upholstered furniture. Let us help you create the home you want with furniture that lasts a lifetime.
The Place For Family Gatherings
At The Amish Craftsman in Houston, we believe your dining room should be as beautiful as it is functional. All of our dining room furniture is made from solid-milled hardwood using craftsman techniques that provide quality that is built to last.
You can choose from leg, trestle and pedestal dining tables, all available with solid tops or you can add leaves. Match your table with chairs that provide the perfect mix of style and comfort. Hutches, curios, sideboards and buffets all add storage and serving options.
Our dining room furniture can be customized to fit your space, from small, cozy kitchenettes to large formal dining rooms. And like all the furniture at The Amish Craftsman, each piece you order is custom built with your choice of design, size, wood and stain.
See What's Possible For Your Dining Room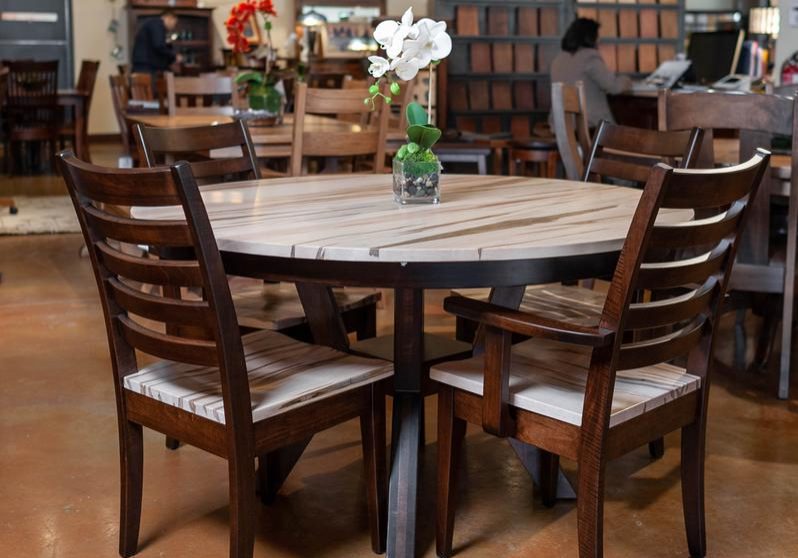 Pedestal tables are an excellent foundation for any room, thanks to their sleek design and ability to be easily accented by lots of different centerpiece ideas.
Whether it's the anchoring piece for a foyer, study, or a breakfast nook, the pedestal table is the perfect example of a small piece making a big statement.  It's an easy way to add old-world elegance and class, yet flexible enough to stay in the family for multiple generations -- no matter how your style might change.
Sturdy, broad, and able to accommodate large groups thanks to additional leaves,  a four-leg table is the best way to make sure everyone has a seat at the meal. 
Think about your favorite childhood memories. More often than not, they probably happened around the dinner table. The perfect dining room table is more than just a piece of furniture; it's the canvas to paint the memories that will last a lifetime.
Built to accommodate large groups of people, the trestle table is a way to easily get the whole extended family together.
Made for multifunctional spaces. Tasteful and understated, the trestle table is easily complemented with classical chairs or simple rustic furniture choices so that you'll have a homey space, even in larger spaces. It's a great choice if you're the family that hosts the yearly reunion.
Visit our showroom and meet with a design consultant to get started on creating your dream dining room.
We purchased a custom table about 10 years ago. Very solid construction of both chairs & table, walnut has been aging beautifully. Wanted a dining table that was unique...this one is not only unique but is like a piece of art.
Day-in, day-out, these chairs are built to last. Gone are the days of creaking, cracking seats. Whether it's breakfast, lunch, or dinner, sitting down should never feel like a question mark.
Enough accommodation is the most important and (most likely) the least thought-of part of your kitchen, dining, or living room. That being said, a well-built chair is crucial -- after all, it's going to take the most abuse out of any furniture you own. That's why we recommend our bespoke chairs made from sturdy hardwood that won't warp or break.
Simple, built-to-last, and elegant, the bench seat is the perfect addition to a larger kitchen or dining room. 
Want to keep your panoramic view? Bench seats are a great way to maximize lighting if you've got large picture windows because of their ability to provide ample seating without obstruction. It's easy to see why the bench seat has been a mainstay of interior designers for years. It can balance out the more-often curved lines of the kitchen, while still allowing for parity of design and materials.
Visit our showroom and meet with a design consultant to get started on creating your dream dining room.
Stable, sturdy, and dependable, hutches are made to be a mainstay of your family for generations -- while still proving their usefulness every single day. 
The hutch is a classic blend of design and function. Use the top to display antique china, family photographs, or a vintage tea while the bottom functions as a perfect place for serving tea, cake, or pizza. Exceptionally compatible with a funky, boho aesthetic, a hutch is an easy way to add old world charm that still feels alive and vital -- plus all that storage!
An island is a great way to add storage, bring the family together, and break up space all at the same time. That's not to say it's just about functionality, either. 
Whether your approach trends toward coastal, boho, or classic farmhouse, the island can be an easy way to cement the style of your kitchen and give you a unified theory of interior design. Completely made-to-order, ours ensure that no matter the size of your kitchen, you'll never feel cramped or at a loss for storage. An island is an easy way to make your kitchen fun again.
Visit our showroom and meet with a design consultant to get started on creating your dream dining room.
Frequently Asked Questions
Amish made furniture is absolutely worth it. The biggest reason being that Amish furniture is much higher quality furniture than you'll find in most chain or mass-produced stores. Because of its craftmanship, Amish furniture is built to stand the test of time. It's solid, durable, comfortable, and made in the United States. Furniture produced by an Amish craftsman isn't just a piece of furniture -- it's a statement piece for your home. We genuinely believe our Amish furniture is the best out there, and once you visit our showroom, we know that you'll agree too.
Our general idea for how to take care of Amish furniture goes like this: a little bit every day goes a long way. We recommend that you dust frequently with a slightly damp cloth to remove dust, working with the grain of the wood. It's also important to choose your wood care products carefully. Personally, if you must use a polish we recommend using Guardsman Furniture Polish. It doesn't contain wax or silicone that can hurt your finish. Also never put a hot or cold plate directly on your wood. A good rule of thumb is that if it's too hot or cold for your hands, it's too hot or cold for the wood.
Yes, Amish furniture is absolutely handcrafted. In fact, the term "Amish" doesn't mean a particular style, but rather a building process. Simply put, it means the Amish build our furniture.  Most of our craftsmen work out of small woodshops with 5-10 employees. Like artisans of any kind, the Amish don't build in one particular style. Although we do tend to like Mission and Arts and Crafts style quite a bit, the Amish also build Shaker, Transitional, and many other additional styles to fit your home's look and feel. 
Our craftsmen use only the highest quality hardwoods when making Amish furniture. This is to ensure the quality and durability of each piece of furniture we produce. While this isn't a comprehensive list, here are the standard woods that make up our furniture: red oak, quartersawn white oak, cherry, hickory, walnut, brown maple, and hard maple.  All of our hardwoods are commercially managed and sustainably harvested from the United States or Canada. We take pride in the fact that not only are we using the highest quality wood but that it's also great for the environment. This isn't furniture that will end up in a landfill.
Yes, you can mix and match anything you'd like.  That's the beauty of our showroom -- figuring out precisely what you want.  Our design consultants work with you to come up with a plan for your dining room, office, bedroom, or living room so that you can get a unified design and aesthetic that is entirely your own.  What do we need from you? Just visit our showroom, and we will take it from there. If you want to get ahead of the game, take some pictures of your home and get the dimensions of the room in which we will be working. Don't forget! We offer a complimentary in-home design service, so we can also have one of our design consultants visit your home to measure the space and provide recommendations.  We want this to be a painless, thorough process that gets you exactly what you need.