CARING FOR YOUR NEW FURNITURE
To maintain the beautiful appearance of your furniture for years to come, please follow a few general guidelines.
Dust Frequently

We recommend using a slightly damp cloth followed by a dry cloth to remove dust. Use a soft cloth and work with the grain of the wood.

Choose your wood care products carefully

Although a damp cloth will do the trick, we know it's hard to resist the urge to polish your brand new furniture! We recommend using Guardsman Furniture Polish. AVOID polishes that contain wax or silicone (such as Endust & Pledge). These products will leave a filmy residue, create a waxy build up and can soften/scratch your finish over time. DO NOT use cleaners containing abrasives, bleach or ammonia. DO NOT use soaps or oils on your Amish furniture.

Remember to never place a hot or cold plate directly on the wood

If it's too hot/cold for your hands, it is too hot/cold for the wood.

Clean up spills and condensation

Your furniture is resistant to most household spills (up to a point), but it's always best to wipe up any spills quickly to prevent potential damage.

Use felt pads to prevent scratching

Remember, the finish is scratch-resistant, not scratch proof.

Beware of the little rubber feet on some household electronics

They can permanently discolor your finish. Be sure to put felt pads on all feet.

Keep furniture out of direct sunlight

Keep plastics, wet newspaper and magazines away from the wood

They will react with the finish and can transfer ink to the wood.

Avoid extremes in humidity & temperature

This can cause the wood to warp and damage the finish. Please keep in mind, wood is a natural product and can expand or contract as the seasons change. When the humidity is high, you might see little gaps between the leaves in the middle of the table. When it is low, you might notice little gaps between the leaves towards the outer edges of the table. This is nothing to be alarmed about, your table might go through this as the seasons change.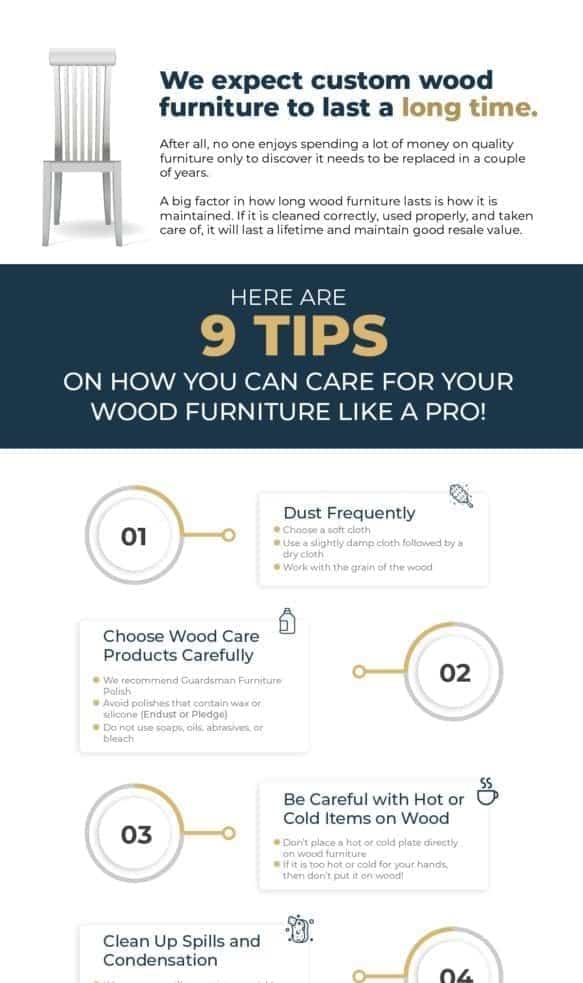 Click to see our Furniture care Infographic