Store Hours:
Monday-Saturday
10:00am-5:00pm 
While we're known for our furniture, we also have a ton of one-of-a-kind accessories and home decor items that can make your place sing.
Sometimes it's the little things that matter most. Whether it's a beautiful custom-made lamp or richly textured earthenware pottery -- we've got the fitting to match your style. Come on in to our showroom to see how your space can instantly be changed with just a few tweaks and the correctly chosen accessory.
Let there be light. Pick from a number of timeless lighting designs; our lamps are made of high-quality glass and other natural materials.
We've got several classic styles. From Prairie Style to Art Deco to Victorian. See our wide assortment of options available with example showcased on our showroom floor.
Home Decor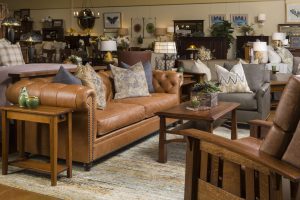 We are a boutique store for custom-built hardwood and upholstered furniture. Let us help you create the home you want with furniture that lasts a lifetime.
Product In-Stock: 1