The rustic style is a natural, warm, and timeless design. It often incorporates exposed wood, and it makes any room seem larger and like a piece of nature.
But with all the furniture and decor available today, how do you design a room with a truly rustic feel?
You may find the rustic style interesting, but is it the right style for you?
Don't worry, the team at The Amish Craftsman is here to help!
This blog post will help you better understand what rustic furniture is, how to design a room using rustic furniture, and how it fits into different parts of your home.
Ready to learn more about this beautiful style? Let's get started!
What is the rustic style?
The rustic style focuses on rough-hewn wood beams, rough accents like bowls and baskets, lots of plants, and other natural and earthy materials.
Here's how rustic furniture is designed with this in mind:
First, it's made from solid wood.
Genuine rustic furniture is made from solid wood—no imitation veneer or plywood allowed!
Of course, comfort is a priority, so living room chairs and couches have plush upholstery. Still, the wood components are made from solid wood, as solid wood is the core of the rustic design. 
Second, it focuses on earth tones and natural finishes.
Rustic furniture does not use splashy or bright colors. Instead, it focuses on earth tones that complement the wood.
Third, it incorporates rough accents.
The rustic style focuses on exposed and rough wood accents, and rustic furniture incorporates this as well.
But remember, rustic furniture is practical too! Things like tabletops and dining room chairs are cut smooth because no one wants to deal with cleaning small bits of food out of a rough-cut tabletop. The rough accents are more common in furniture accessories such as end tables or coffee tables.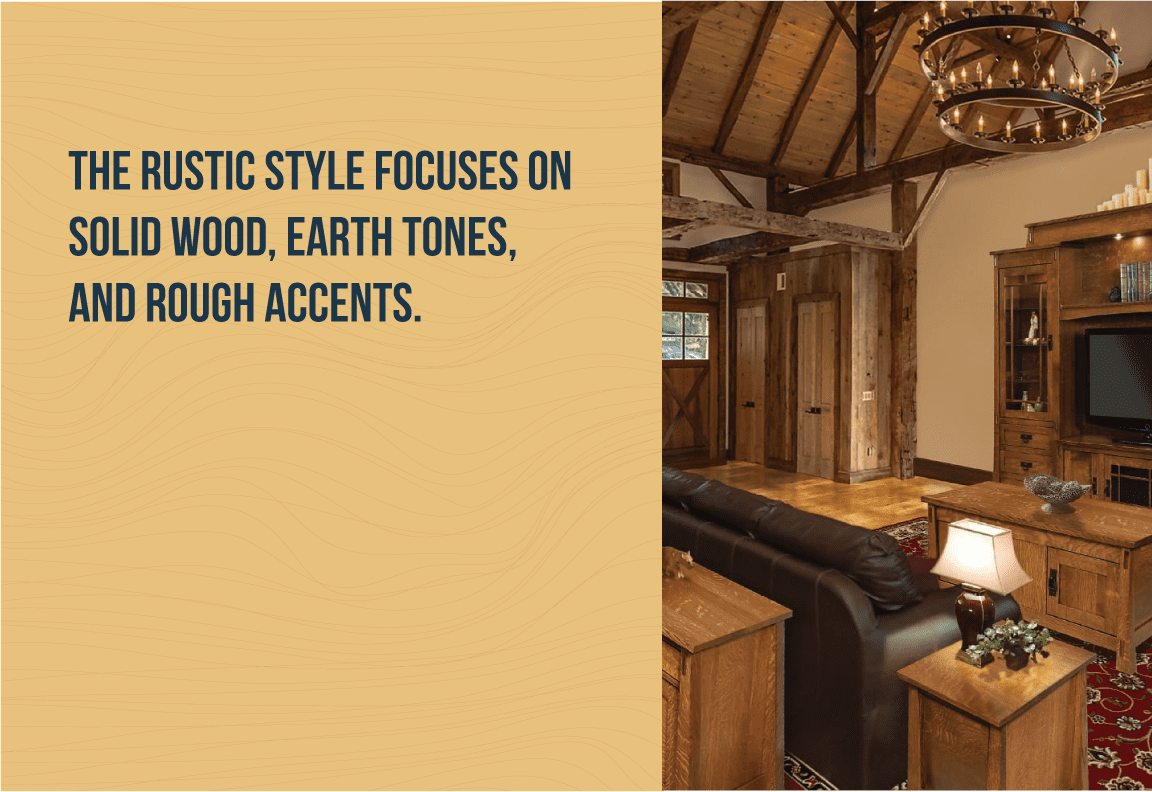 Designing A Room with rustic furniture
Because of the focus on nature and exposed elements, there is a wide range of accessories and decor you can use to help style and design a room with rustic furniture in mind.
Earthy color palettes - the rustic style focuses on earth tones and colors. Design with lighter earth tones and avoid flashy or bright colors.
Exposed wood - one of the cornerstones of the rustic style is exposed wood. It doesn't matter if the exposed wood is in the room's actual structure, such as beams or paneling, or brought into the room via wood accessories and furniture.
Natural stone accents - another staple of rustic design is natural stone. You can add natural stone to your fireplace or hearth, or you can use decorations that incorporate natural stone accents.
Plants - because the rustic style focuses on natural accents and accessories, filling your room with plants contributes to the natural aesthetic.
Jute or wool rugs - jute and wool rugs bring out the natural elements of a room, and they are a great way to add layers of texture.
Canvas and burlap - complement your furniture and other rustic accessories by adding canvas or burlap pieces such as wall hangings.
Distressed wood - whether it is a hardwood floor, ceiling beams, or wood paneling, using distressed wood contributes to the rustic style.
Patinaed metal - patinaed metal brings class and depth to a room, especially when using a traditional metal like copper, brass, or bronze.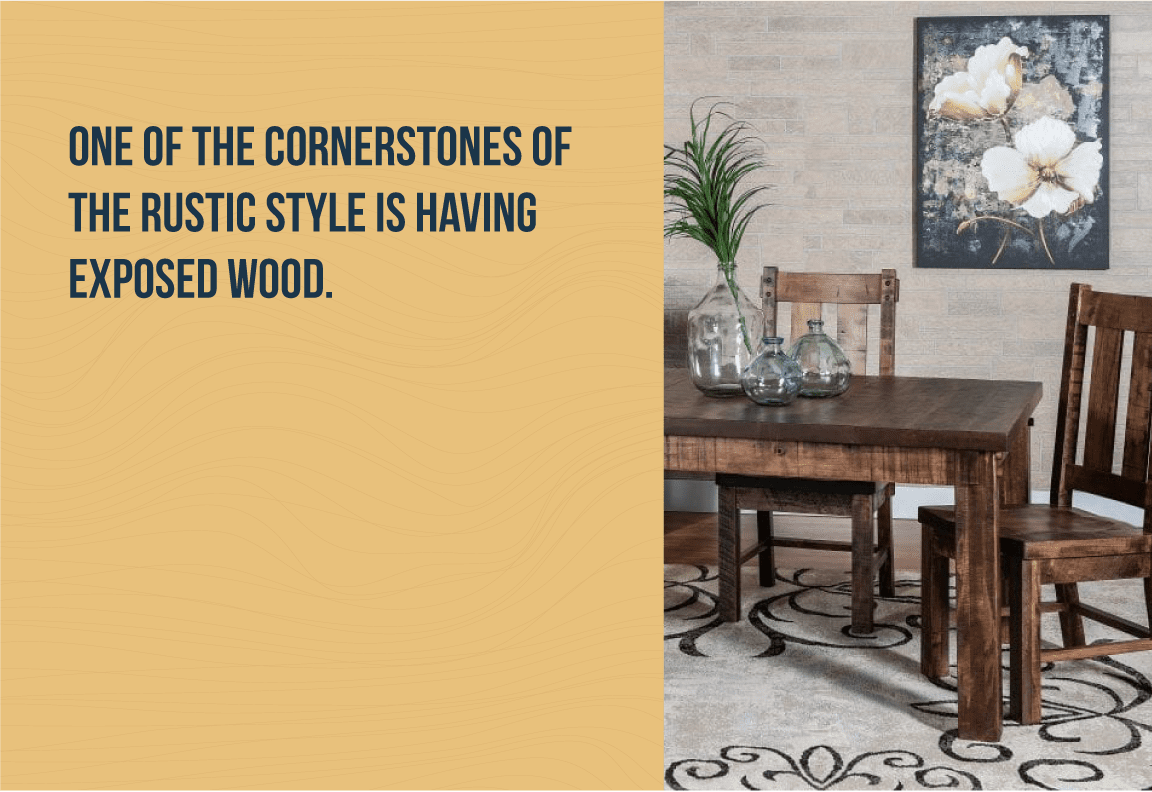 Whether you're designing the bedroom of a cabin, a farmhouse, or a traditional home, using rustic bedroom furniture brings natural beauty, classy style, and a sense of majesty to any bedroom.
Whether it is a bed frame, a dresser and chest, or a nightstand, rustic bedroom furniture brings timeless grace to the room.
Also, if you choose hand-crafted rustic bedroom furniture made from solid wood, you can have peace of mind knowing you have furniture to last a lifetime!
Notice the rustic elements in the following pictures of rustic bedrooms:
Exposed wood, beams, and paneling

Bedspreads with natural tones and designs

Soft lighting, which contributes to the relaxed feel

Decor and accessories that are focused on nature

Flowers and floral accessories
For more bedroom design tips, check out our related blog post: 6 Easy Steps To Designing Your Bedroom Like A Pro
Rustic Living Room Furniture
If you enjoy earth tones and the beauty of nature, then consider designing your living space with rustic living room furniture.
Focusing on natural elements and other rustic designs, rustic living room furniture makes any home feel like a place of rest and beauty.
Choosing hand-crafted living room furniture also ensures your furniture lasts your home and family for generations!
Notice the rustic elements in the following pictures of rustic living rooms:
Soft and natural lighting

Hardwood floors, exposed beams, and other wooden accents

Rugs on the floor instead of carpet

Pottery, vases, and other nature-focused decorations
Rustic Dining Room Furniture
Food brings people together, making the dining room one of the most important rooms in your home. That's why you should carefully design and style it! Just like in the rest of your home, you can design a dining room with rustic features and use rustic dining room furniture.
The dining room is a great place to use tables, chairs, and other smaller accessories that focus on the stability and timelessness of the rustic style. And if the furniture is handcrafted, you know you have dining room furniture to pass on to your children as an heirloom!
Notice the rustic elements in the following pictures of rustic dining rooms:
Earth-tone colors and finishes on the furniture

Stone accents of the fireplace

Flowers and plants

Natural colors and tones
Where do I find quality rustic furniture?
In your home, you want custom furniture made with solid wood and quality craftsmanship.
We have all seen how cheap furniture doesn't last long and quickly loses its new shine, and we don't want this for our home!
At The Amish Craftsman, we custom build furniture from solid wood designed to last a lifetime. Our furniture is hand-made by expert craftsmen who focus on building furniture that leaves a family legacy.
If you live in Houston or the surrounding area and are looking for quality rustic furniture for your home, then contact our team to schedule an appointment.
Or, if you're more interested in a different style, we also offer:
You can also browse our online store to see what is available for you today.  
We look forward to working with you in making your dream home come true!
Want To Learn More About Style & Furniture?
Read our other blog posts to learn more tips & tricks!
At The Amish Craftsman, we believe custom furniture should be impeccably constructed, built to last, and above all, exactly what you want. Why bother otherwise, right? That's why we take the time to get to know you, your home, and your lifestyle–and then get to work helping you select the best pieces for you and your family. And, trust us, we really do have something for everyone.
Read More

→