Have you ever walked into a room that felt cold and uninviting?
That room might have lacked one thing:
Whether it's a plush Moroccan rug or a classy Persian rug, the carpet in a room ties all the elements together and creates the feeling of completion.
However, sometimes rug shopping can result in a case of "option overload" and frustration because you don't know exactly what you want or need.
At The Amish Craftsman, we understand that a new rug is an investment. You want to be sure that you are spending your money on a rug that will be perfect for you, your home, and your lifestyle.
That's where we come in. We've put together a list of different rug styles to help you figure out what you like and what would best fit your needs. Beyond that, we walk through all the things you should consider before purchasing a rug.
Let's see what's possible with your next rug!
5 Reasons To Buy A Rug
Rugs are one of the most important elements in a room.
Why?
Well for one thing they are one of the largest elements in a room. For another, they serve a lot of purposes.
Let's look at a few of the things you can accomplish with a good rug:
Define a space
A rug can help you define a space in your home, particularly if you have an open floor plan. If your home is spacious and open, rugs can help you create cozy spaces within the larger space.
Placing a rug under your table and chairs, for instance, neatly blocks off that area as the dining area. Rugs with distinct borders are especially helpful for blocking off spaces.
Make a room feel larger
A well-placed rug can make a room look larger. Alternatively, it could make a room look smaller.
Go for a light-colored rug.
Use one large rug, but make sure there is space between it and the walls, so it doesn't look like the room is crowding the rug.
Stay away from bright, bold colors or loud patterns.
Use a lightweight rug rather than a heavy-textured or shaggy one.
Use several small rugs to block off separate spaces in a large room.
Add different shapes of rugs, such as a large oval rug and two smaller rectangular ones.
Feel free to use bold colors and patterns!
Go as long and shaggy as you want.
Tie elements together
If your room lacks a sense of balance and completion, you may need a rug to finish it out. Rugs can tie together a room like no other element can!
For example, the colors in your rug can tie together the colors in your decor, furniture, and throw pillows to create a unified look.
Or, choose a bold rug with a geometric pattern to add an element of interest to your room.
Reduce noise
Have you ever been in a concrete basement where there were noisy children playing? The hard surfaces bounce the noise around and can make three children sound like a whole daycare! All the noise can get really frustrating after a while.
That is how it can be in your home if there are too many hard surfaces. The sound can bounce around and get overwhelming.
Soft rugs dampen sound and help to keep the noise in your house to a minimum. A hall runner or a rug overtop of your kitchen tile may help you keep your sanity!
Make a room cozier
Nothing feels more luxurious than a soft, cozy carpet underneath your feet!
A plush rug makes a room feel so cozy and inviting. Plus, if you don't have enough seating for all your guests, they will be more than happy to sit on your comfy floor!
If you have small children, a rug makes it safer for them as they learn to walk, providing better grip and a soft landing cushion for falls.
6 Things To Consider When Buying A New Rug
Purchasing a rug can be a significant investment. You want to make sure that you are happy with your choice.
Here are six things to consider before you buy a rug:
Consider Rug Size and Shape
The first and most obvious thing you should think about is what size and shape your rug needs to be. You don't want to come home with a new carpet to find that it's too large or too small for your room!
Measure your room and think about what furniture you want to fit on the rug. For example, if you are buying a dining room rug, you will want your table and chairs to fit on it with a little space to spare. Or, if you are buying a bedroom rug, you'll want it to be big enough to go under two-thirds of the bed.
At The Amish Craftsman, we have various sizes of rugs so you can pick out the one that is just right for your space.
What Materials Are The Rug Made From?
Rugs come in lots of different materials:
These materials are suitable for different purposes and not all of them are good for every purpose.
For example, natural fibers can be coarse and difficult to clean and may not be the most kid-friendly. A rug made of animal skin is durable but not very soft. Silk rugs are beautiful and soft but very expensive.
If you don't know which of these materials is best for you, read this guide to choosing a rug material.
Rug Pile
A rug's "pile" is the density of the fibers that make it up. A thick pile is very dense, and a thin pile is less dense. You can also have a long or short pile, meaning the length of the fibers that make up the rug.
As a rule, rugs with short, thick piles are more durable and easier to clean than rugs with long, thin piles. A rug with a short, thick pile may be a better choice for a high-traffic area such as a hallway or mudroom. However, a rug with a long pile will be softer and more luxurious than a rug with a short pile.
Cleaning and Maintaining Your Rug
Before you buy, think about how much maintenance a rug needs.
A shaggy rug with a long pile will be tougher to maintain and clean than a rug with a shorter pile. Really shaggy rugs can sometimes get caught in your sweeper, and they are more prone to matting and crushing.
Also, different materials are harder to clean than others. Silk requires professional cleaning, and natural fibers can be difficult to clean as well.
How Much Traffic Will Your Rug Get?
Some rugs are fragile and are made for decoration rather than a lot of foot traffic. You'll want to preserve these rugs by keeping them out of heavy-traffic areas.
A sturdy rug with a thick, short pile or a flat rug that won't get crushed will be a better choice for an entryway or hallway. We recommend saving the luxurious rugs for the living room or bedroom.
Match Your Rug To The Decor In Your Home
Of course, there is always the question of aesthetics. Will a rug go with your decor? Is it the right color, texture, and pattern?
Besides that, is it the right style? Even if it is the right color and pattern, some styles of rugs won't blend with the overall style of your house. Think about this before you choose your rug.
10 Styles Of Rugs For Your Home
We've talked about why rugs are great, rug materials, and what you should think about before you buy a rug.
Now let's look at 10 of the possible rug styles that you could use in your home.
Arts and Crafts Rugs
The Arts and Crafts Movement began in the late 1800s as a rebellion against mass-produced goods and an attempt to bring back quality craftsmanship.
Rugs were no exception! Rugs designed during this time were quality and beautiful. The designs usually contained nature-inspired floral designs and muted colors. Geometric patterns, Mission style designs, and Native American designs were also common.
Today, companies like The Persian Carpet reproduce these Arts and Crafts designs. These rugs often look vintage and contain earthy, muted colors and simplified floral designs.
Their natural motifs and earthy colors make Arts and Crafts rugs a perfect fit for homes with lots of hardwood and other natural materials.
Arts and Crafts rugs with geometric patterns go great with the simple lines of Mission style or Modern decor, while more intricate, colorful designs could add some great interest to a Bohemian style room.
To view more Arts and Crafts rug options, take a look at the options available at The Amish Craftsman!
Craftsman Rugs
Inspired by the Arts and Crafts movement, the Craftsman movement held a lot of the same ideals. Both movements valued quality craftsmanship over the quantity of products. Modern companies like Tiger Rug reproduce the designs of the skilled artists of this era.
Craftsman rugs are very similar to Arts and Crafts Rugs. They tend to come in earthy, muted colors with natural motifs or geometric designs.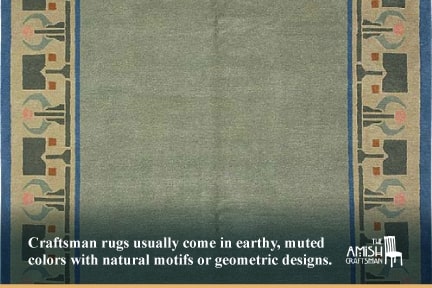 These characteristics make them perfect for homes with a natural theme like Rustic or Mission design. They look great on hardwood floors!
That said, there are also Craftsman rugs that could look amazing in Modern, Country, or Bohemian homes.
To view more Craftsman rug options, look at the options available at The Amish Craftsman!
Moroccan Style Rugs
Moroccan-style rugs pull inspiration from the tribal weavers of Morocco. They are typically plush and luxurious with long piles – perfect for cozying up a living room, bedroom, home office, or reading nook!
Though bright, happy colors are not unheard of, these rugs usually come with geometric designs in calming colors or neutrals. Traditionally, different tribes make different designs, so Moroccan rugs vary in looks.
Neutral and versatile, Moroccan rugs could go in almost any home style. They are great for anything from a Modern living room to a Coastal bedroom to a Minimalist entryway.
Oriental Rugs
Oriental rugs originated in Asia, in China, Tibet, Pakistan, and Iran. We know Oriental rugs for their rich colors and ornate, intricate designs.
Oriental rug design falls into two categories:
Rectilinear design – angular patterns and geometric motifs
Curvilinear design – more intricate patterns and floral motifs
The 'Medallion' design is common, featuring an intricate 'medallion' in the center of the carpet, with the design working outward from there, often ending with a complicated border.
Oriental rugs can go with lots of decorating styles! They can warm up a Modern room or bring a sophisticated touch to Farmhouse decor, and distressed Oriental rugs can look great with Vintage decor.
From minimalist to modern, these rugs are always classic and versatile!
Bohemian Rugs
Bohemian rugs express wanderlust with their global-inspired designs. They feature busy, artistic patterns.
Bohemian rugs can come in muted or bright colors and feel playful and romantic. They are often distressed. Their intricate designs resemble oriental rugs, but they are less classic and traditional, opting for more of a fun feel.
Boho rugs are as versatile as oriental rugs. They can add spice and warmth to a Minimalist interior or mix well with Mid-century, Modern, or Bohemian aesthetics.
Contemporary Rugs
Contemporary rugs favor modern designs, and they can look either "soft" or "hard." They feature abstract, geometric shapes and stark contrast. They often have bold blocks of color that catch the eye and make a statement.
Contemporary rugs can come in bright or neutral colors and often add interest and an eye-catching element to a room. It's best to pair them with less conspicuous furniture to avoid competing elements.
Because of their bold patterns and clean lines, Contemporary rugs look good in Modern or Contemporary homes.
Transitional Rugs
Transitional rugs combine the best of traditional and contemporary rug designs. It's the in-between of these two styles.
These rugs take classic designs, such as Oriental patterns, and modernize them or pair them with modern color schemes. This makes for a combination that is both elegant and modern.
Transitional rugs can come in any color: light, dark, muted, or bright, and have endless design possibilities. Transitional rugs go well with simple looks such as Minimalist or Modern.
Southwest Rugs
Look no further than a Southwestern-style rug if you want something bold and earthy!
This design reflects the desert landscapes of the American Southwest. It also uses bold, geometric patterns, Navajo designs, and rich, earthy colors like terracotta, turquoise, warm browns, and oranges.
A Southwestern rug would fit perfectly into a rustic style home. It could also add some great spice to a modern or minimalist space.
Mid-Century Rugs
Mid-century design is all about geometric motifs and color, so most mid-century rugs will feature big, colored, geometric shapes. Designs are not ornate or intricate. Eye-catching and abstract, mid-century rugs are very similar to contemporary rugs.
Colors can include neutrals, muted tones, or bright, artificial colors.
Like contemporary rugs, mid-century rugs will look good with modern decorating styles such as Modern, Mid-century, or Contemporary.
Vintage Rugs
Technically, a vintage item is an item that is 20-100 years old, so a vintage rug is anything that falls into that category or looks like it should.
Vintage rugs are all about classic! They usually feature traditional designs, including scrollwork, floral motifs, medallions, and borders. They are often fairly intricate, like oriental rugs, and it's common for them to be distressed.
Authentic Vintage rugs can be statement pieces. They go great with Farmhouse style, Modern style, Contemporary style…pretty much anything!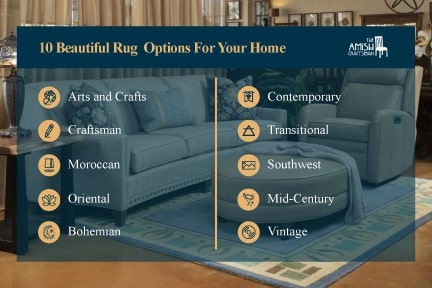 Conclusion
There you have it – 10 styles of rugs that you could try out in your home.
And by now you have a better idea of which styles suit your taste the best!
If you would like to check out some rugs right now, the Amish Craftsman has two collections of beautiful rugs:
Contact us today and see what's possible for your next rug!
We have more than furniture, too! We also carry:
And furniture for every room in your home!
We look forward to hearing from you!