Designing A Room With Mission Style Furniture [7 Tips]
Do you want to add furniture to your home based on rich, solid woods, warm color tones, and superior craftsmanship?
Are you looking for furniture that brings a solid yet graceful presence to a room? 
If this describes the furniture you enjoy and want, then mission style furniture may be right for you and your home.
In this post, we look at what the "mission style" is, seven tips to designing with it, and some examples of mission furniture used in the bedroom, living room, and dining room.
Are you ready to learn about this gorgeous furniture style?  Let's get started!
What Is The Mission Style?
Mission style furniture traces its roots back to the 1800s to a type of furniture popular in colonial California, originating among the Spanish missions dotted throughout the state.
The style focuses on using wood craftsmanship in straight horizontal and vertical lines.  The purpose is to expose and accentuate the wood's grain to add to the furniture's beauty.
Because of this focus on solid wood and exposing the grain, genuine mission furniture is produced with precise and expert craftsmanship - much of it handcrafted.  
When it comes to colors, it typically uses warm color tones such as green, orange, gold, and burgundy.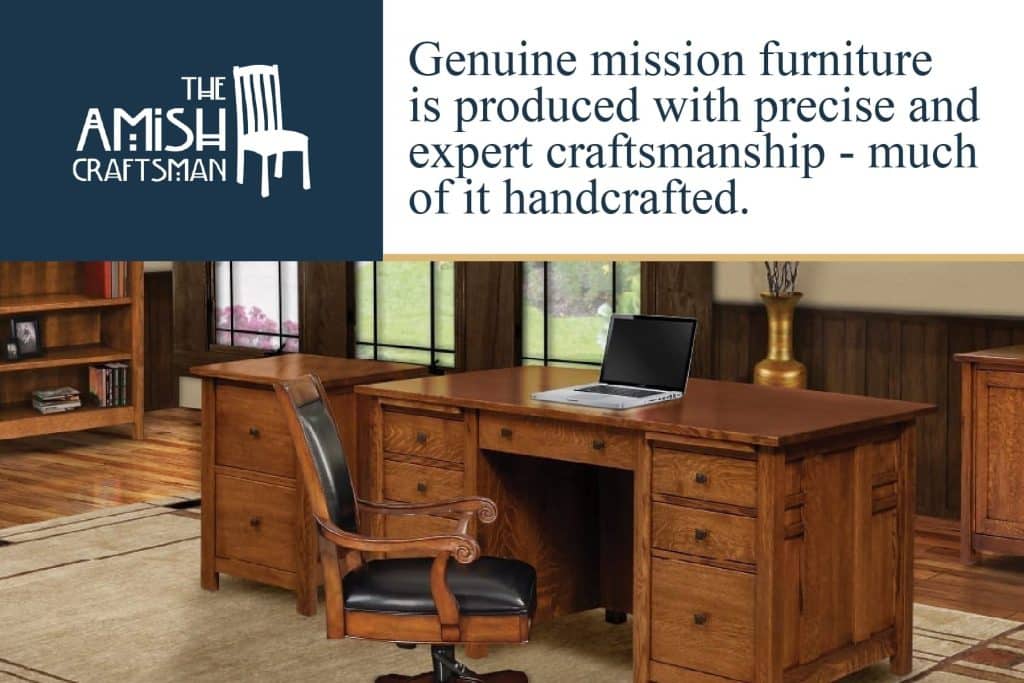 7 Tips To Designing A Room With The Mission Style
Many people love the simplicity of mission furniture, but they are sometimes not sure how to decorate their homes using this style.  
Here are seven decor ideas to use when designing a room around this graceful style.
Hammered metal
There are different types and colors of hammered metal available, but the purpose remains the same - using it to add a rustic and versatile decor that complements your room's furniture.
Stained glass
Using stained glass in the room adds elegant yet simple beauty and decor to the mission furniture.  
Including stained glass in the room goes back to the early Spanish churches, and was also influenced by Frank Lloyd Wright. 
Mortise-and-tenon joints
Using furniture with mortise-and-tenon joints creates a stable, majestic feel to a room and the furniture in it.  It also helps focus the attention on the wood and craftsmanship style.  
Hand-thrown pottery
Using small pottery pieces in a room helps draw the focus to the simplicity, warmth, and natural color tones of the mission style.  
Depending on the colors chosen, they also provide a natural accent to stained glass in the room.
Natural cotton drapes
Natural cotton drapes provide a sense of majesty and depth to a room with thick material and long-flowing design.  This provides more of the long vertical lines that make mission furniture so popular.
Linen throws and accents
Using linen accessories in your room helps draw attention to the focus on the furniture's earth tones and textures.  
Whether you use linen throws or other accents, they add an elegant touch to any mission-style piece.
Patterned pillows
Like stained glass, using patterned pillows adds a simple decor with a splash of color and style to the furniture and room.
Examples Of Mission Style Bedroom Furniture
If you want to add a classy, majestic style to your bedroom, then take a close look at using the style in the bedroom!
With the focus on wood and solid craftsmanship, you can also know that your bedroom furniture is designed to last a lifetime, especially with hand-crafted bedroom furniture!
Notice the design elements of this mission bedroom furniture:
The emphasis on the vertical wooden slats of the bed frame and dresser

The cotton drapes hung on the wall

The use of simple plants to add color to the bedroom

Pillows with several shades of earth tones

A linen throws used on the bed

Small wooden and pottery objects throughout the rooms
Examples Of Mission Style Living Room Furniture
If you want your living room to have a spacious, airy feel, then using mission living room furniture and accessories is a great way to go.
This style helps avoid the "stuffy feeling" that sometimes occurs when excessive carpet and upholstery is used.  Instead, it focuses on hardwood furniture styles.
Enjoy the open and spacious feeling that these two living rooms provide while emphasizing the mission style: 
A simple throw rug on an uncarpeted floor

The graceful and stately lines on the different furniture pieces

The colorful full-length drapes used by the windows

Simple plants, or pictures of plants, used throughout the rooms

The use of patterned pillows with natural tones on the sofa
Examples of Mission Style Dining Room Furniture
Dining rooms may be the room where the mission style best comes to life.
What is so special about a dining room?
First, most dining room furniture is made from wood already, and that fits mission furniture well.  
And second, many dining rooms don't have an emphasis on carpet or excessive use of rugs, making this style shine!
In the following example of mission dining room furniture, notice the following:
The use of stained glass on the lamp

Linen place settings and napkins

The graceful slats on the dining room chairs

The table frame using mortise-and-tenon joints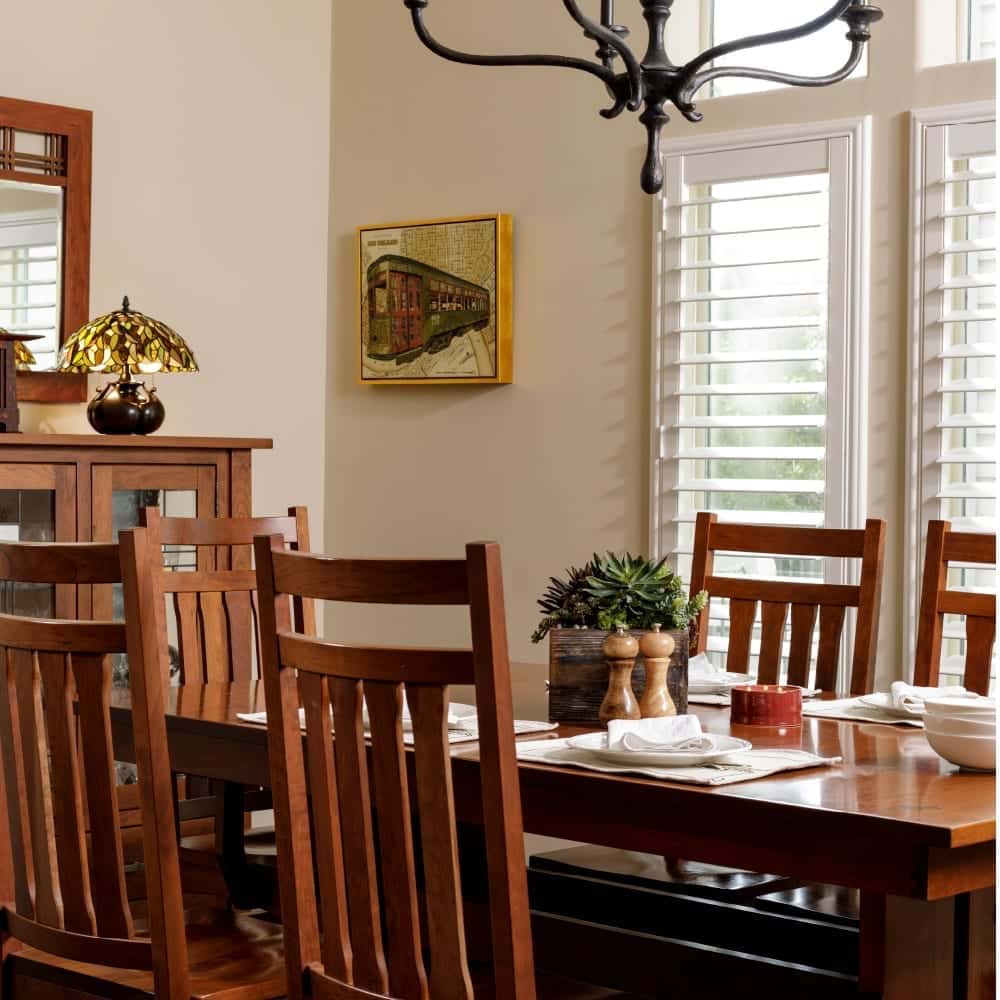 Where Do I Find Quality Mission Style furniture?
Because the mission style focuses on the wood pattern, grain, and design, you don't want to buy cheaply made furniture and risk losing the full effect or style.
Instead, the best way to find quality furniture is to find a furniture store or craftsman where the furniture is hand-crafted using only real wood.
While this may cost more than mass-produced furniture, it allows you to enjoy the beauty and grandeur of the mission style.  It also means the furniture will last for many years and not quickly be thrown out!
If you live in the greater Houston area, then The Amish Craftsman is the perfect place to find the high quality and beautiful design you need for your home.
Whether it is the bedroom, living room, dining room, or office, we create hand-crafted custom furniture in Houston.  
Besides a full line of mission style furniture for your home, we also provide rustic style furniture and traditional style furniture.
Contact our team today to schedule an appointment, or browse our online store to see what is available for purchase today.
We look forward to working with you in making your dream home come true!
Want To Learn More About Style & Furniture?
Read our other blog posts to learn more tips & tricks!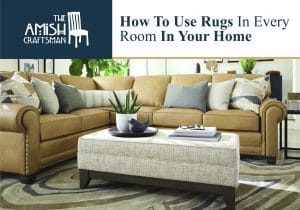 How To Make A Rug Work In Every Room In Your House
Every interior designer or homemaker knows an area rug can make or break a room.  But for some, the very thought of choosing and placing a rug strikes fear into the heart!  Why?  Because, while the right rug makes a space sing, an unattractive rug is a large, noticeable, and likely expensive eyesore.  And aesthetics…
Read More

→