Every interior designer or homemaker knows a rug can make or break a room!
But for some, the thought of choosing and placing a rug is scary and overwhelming.
Why?
Because while the right rug makes a space sing, an unattractive rug is a large, noticeable, and likely expensive eyesore.
And aesthetics aside, rugs are meant to serve a practical purpose too. What if your rug isn't functional?
At The Amish Craftsman, we understand that you want to pick out the right rug for the job and place it well. But you may not know how.
We have put our years of experience to work and pulled together this article with tips and tricks for choosing and placing rugs in your home! After all, different spaces in your home call for very different types of rugs.
Ready to learn how you can use rugs in every room in your home?
Let's find out!
Rugs for Every Room In Your Home
Rugs serve a variety of purposes. They can tie the décor in a room together, create a finished look, warm a room up, or serve as a focal point and create interest in a space.
Besides that, rugs serve practical purposes as well. A good rug protects your floors, keeps noise levels down, and provides a soft surface for young children to play on.
As you can see, rugs can be very useful!
But not all rugs are useful for the same spaces. A long, plushy shag rug isn't a great choice for an entryway where it will get crushed and dirty, and a tough, flat, synthetic rug won't make a bedroom very cozy.
See what we mean?
Let's discover some tips and tricks for using rugs in each room in your home beginning with the living room.
Living room rugs
The aesthetic style of your rug depends on your personal taste and the overall look of your house. There are lots of popular rug styles to choose from!
But whatever style you choose, there are general rules you can go by when choosing and placing a rug.
Here are some general tips for living room area rugs.
Placement of Living Room Rugs
In a living room, the placement of your rug depends on the living room layout and size.
For a small living room, you could do one of two things: You could try a small rug just under the coffee table in the middle of the room. That anchors the room nicely. Or, if you want to make your space feel larger, you could get a bigger rug and place all your furniture completely on the rug with a little room to spare around the edges. A little breathing space around the edges makes so it doesn't look like your furniture is crowded onto the rug.
For a medium-sized living room, go for a larger rug and place your furniture so only the front legs are on the carpet. This will anchor the room but won't overcrowd it.
For big living rooms, get a large rug that fits all your furniture on it. This makes the room seem cozier. Or, you could use several small rugs to block off spaces and create little nooks.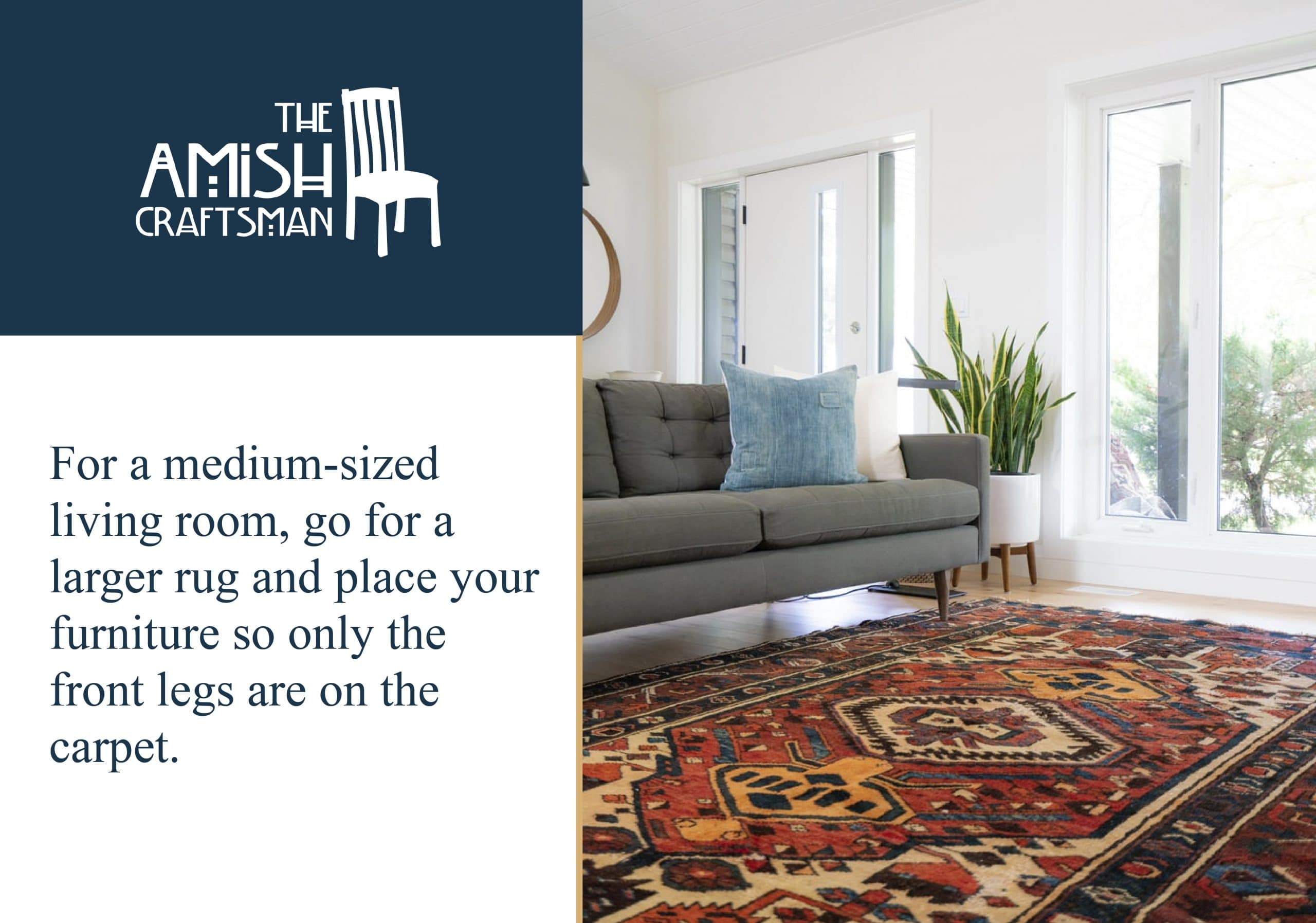 Tips for Choosing Living Room Rugs
Living rooms are often high-traffic areas. Plushy, soft rugs make a living room cozy, but make sure that whatever you choose is tough enough to take a beating.
Choose a rug that accommodates the desired seating area, not the whole room. Leave a little space between the edge of the rug and the wall, so the rug doesn't look crowded.
You can use your living room area rug to unify all your design elements or as a focal point that adds interest to your space.
Want even more interest? You could try layering rugs!
Kitchen Rugs
To some, rugs in the kitchen may sound silly.
Who puts carpet in the kitchen? And who wants to constantly clean food spills off their rug?
But a rug can warm up a kitchen space that might otherwise seem cold and utilitarian, and if you have slick wood floors, a rug with some grip can provide a safeguard against slips.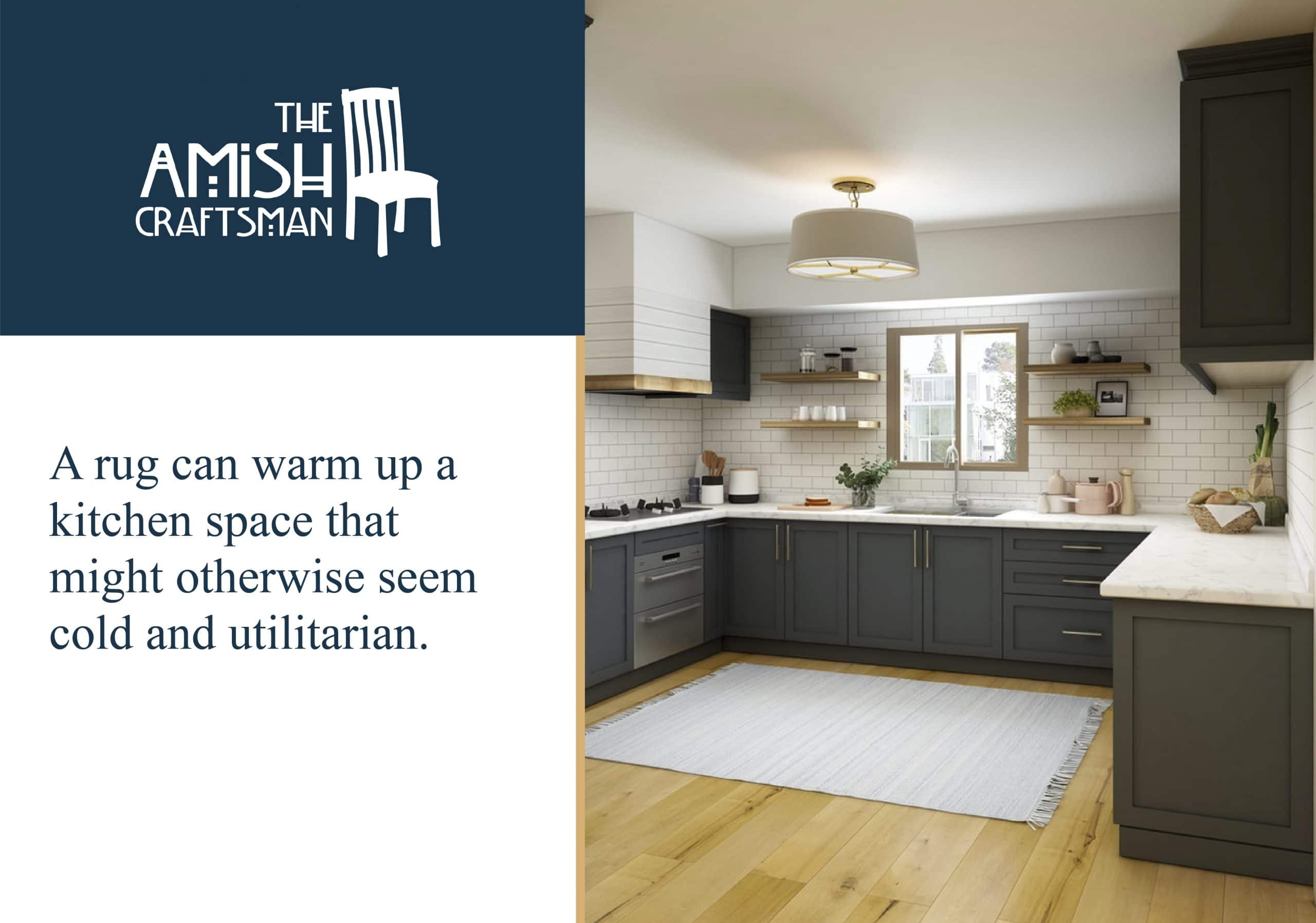 Placing A Kitchen Rug
There are several spots where you could place a kitchen rug. A good rule of thumb is to place it in one of the areas that get the most traffic. These areas could include:
In front of the sink
Between your cabinets and your island
In front of the stove
In front of the fridge
A long, narrow runner can provide a nice pathway in your kitchen, while a smaller, thicker rug can soften the ground for standing on while you do dishes or cook.
Tips On Kitchen Rugs
Flatweave rugs are best for kitchen spaces because they make for easy cleaning. You don't want a thick, fuzzy rug in a place where food will get dropped on it.
Think practical and hardy. You don't want your rug to be fragile or show stains. And it's probably not the best idea to put a priceless antique rug in a place like a kitchen.
If you want some soft cushioning and anti-slip security in one spot, get a kitchen mat. Kitchen mats often have extra cushioning and rubber backing for good grip. They are also great for extra cushioning that protects your back while you stand on hard floors.
If you place a good rubber mat underneath your kitchen rug, it can provide good grip. In fact, sometimes it's dangerous not to have a mat beneath your rug. Some rugs would slide around on wood floors, and the last thing you want is to slip on your rug while carrying a full pot of food!
If you have a tile or stone floor, a rug can warm the floor up a little.
Bedroom Rugs
A cozy bedroom rug might make it easier to get up in the morning! After all, who likes to step out of bed onto a freezing cold floor?
Here's how to place the perfect bedroom rug.
Proper Placement of Bedroom Rugs
In a bedroom, the placement of your rug all depends on your bed. The bed is the focal point of a bedroom, so the rug usually goes underneath it.
It often looks good if the rug is large enough to go underneath about ⅔ of the bed.
In addition, you want your rug to extend at least a foot beyond the bed in all directions, more if the room is large. You don't want your bed to look like it is balancing on a tiny rug that barely peeps out from beneath it.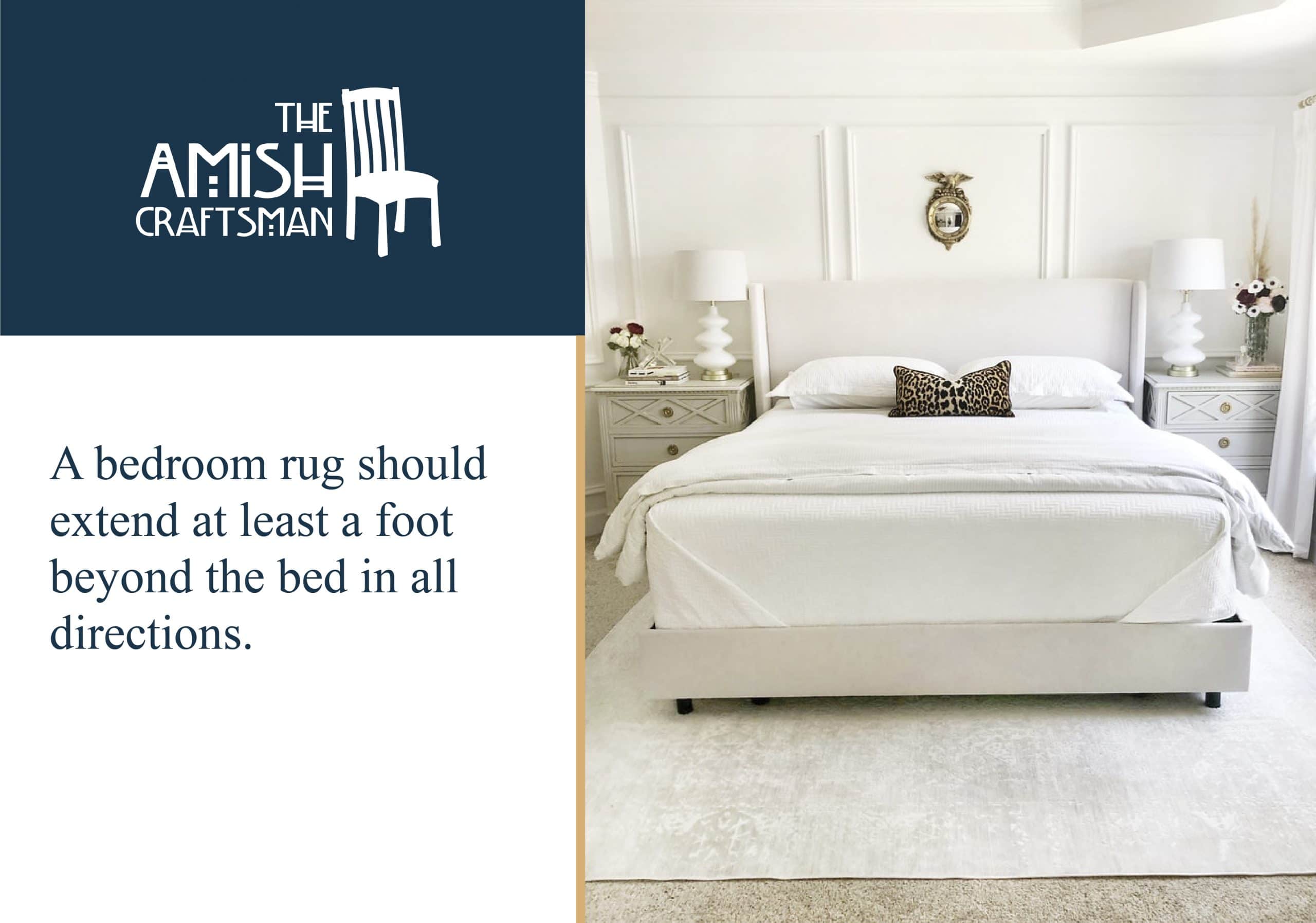 If you want an interesting and modern twist, you can try placing the rug at an angle under the bed or layering different sizes of rugs.
And what if you don't have a large rug? You could try a small one by the side of the bed. It could be any shape, even a runner.
Bedroom Rug Tips
If you have a bench or chest at the foot of our bed, your rug should extend at least a foot beyond it.
Runners beside the bed look best when they are slightly wider than your nightstand and don't extend far past the foot of the bed.
Bedrooms are usually low-traffic areas, so this is where you can use expensive, fragile, and luxurious rugs! Cozy, plush rugs like shag or Moroccan rugs are perfect for bedrooms. If you want additional cushioning and anti-slip security for your rug, get a rug pad to go with it.
Bathroom Rugs
Bathrooms have a lot of hard materials, so they can seem cold and uninviting.
Why not warm your bathroom up with a rug?
A rug makes a bathroom feel a bit more soft and comfortable and functions as an anti-slip safeguard for wet floors.
Placement of Bathroom Rugs
The same as with a kitchen rug, you want to place your bathroom rug in one of the areas with the highest traffic. This could be in front of the sink, shower, or toilet. Or, if it's just to make a design statement, it could simply go in the middle of the bathroom.
Never cover the whole floor, as that would be a perfect recipe for mold. In a bathroom you want small rugs that can be hung up to dry.
Runners can fit nicely in some bathrooms, depending on the shape. With a rubber rug pad underneath, they can make great anti-slip walkways.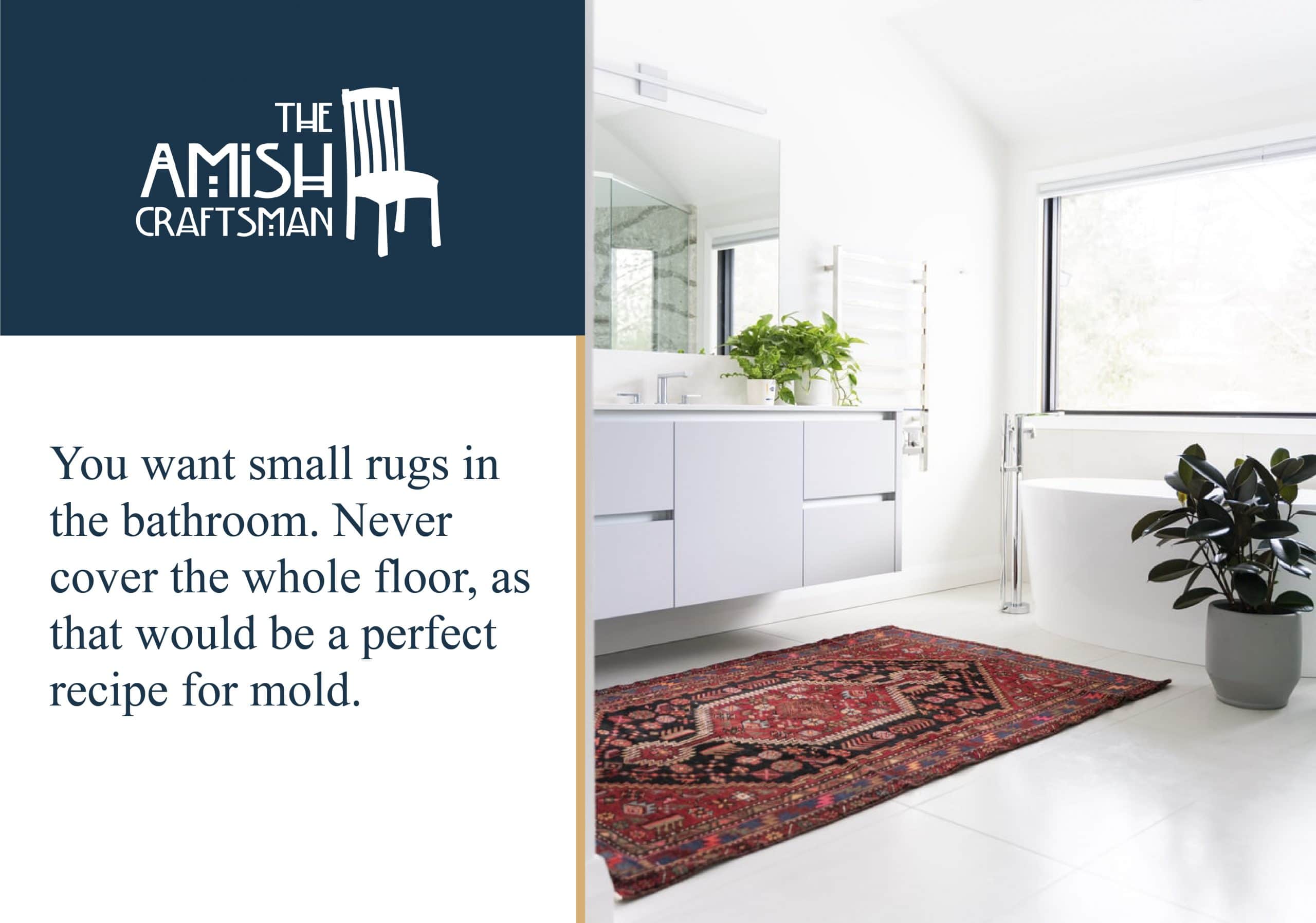 Choosing A Bathroom Rug
Bathrooms are usually high traffic, so make sure your rug is tough enough to stand up to the traffic. Also make sure it is made from a material that won't suffer if it gets wet.
It may be a good idea to place a rubber mat under your rug to keep it from slipping on a hard tile floor.
Bathroom rugs can get dirty quickly, so remember to clean them regularly.
Entryway Rugs
Entryway rugs have to be tough as nails because they are in high-traffic and heavy-duty traffic areas. They are meant to be walked on and used. They often act as protection for the floors underneath.
Because of this, entryway rugs tend to be flatter and stronger than other rugs.
Entryway Rug Placement
Entryway rugs are very easy and intuitive to place.
They usually go right in front of the door to catch all the mud and debris people track in from outside.
For longer entryways, a hallway runner type of rug works well. You can use a hallway runner to create a walkway or provide more space for people to leave their shoes.
Whatever shape your rug is, it should be big enough for people to comfortably stand on to take off their shoes.
Tips For Buying An Entryway Rug
Make sure your entryway rug is low enough that the door doesn't catch on it. There's nothing more annoying than a rug that folds up every time you open the door.
Make sure this rug is tough and sturdy! It's going to take a beating. Avoid fur and silk rugs and go for tough materials like wool, jute, and synthetics.
Don't choose a rug that will be hard to clean. Entryway rugs are going to get dirty.
Patterns can not only add interest to a space but hide dirt as well. Since they hide dirt, patterned rugs sometimes have longer lives than plain rugs.
Dining Room Rugs
A great rug can bring color, warmth, texture, and style to your dining room!
Here are some tips for picking and placing your rug just right.
Placing Your Dining Room Rug
A dining room rug goes right under your table and chairs, so you want it to be big enough to fit everything on completely with some breathing space. You don't want your table and chairs to look crowded on the rug.
If you aren't sure what size to get, err on the side of too big. If your rug is too small, you won't be able to pull out your chairs without running into the edge of the rug. A good rule of thumb is to leave at least two feet or more on all sides of your table and chairs.
The shape of a dining room rug often mirrors the shape of the table. A square table looks best with a square rug, and an oval table looks best with an oval rug, although this is not a hard and fast rule.
Tips On Choosing A Dining Room Rug
Pick a flat rug. Long, shaggy rugs will catch on chairs, making them hard to scoot in and out.
Avoid light-colored rugs, as they will easily get stained. Patterned rugs with deep, rich hues hide dirt better than plain, light-colored rugs.
Choose a rug that will be easy to clean. In general, the finer and smoother a rug is, the easier it will be to get food out of it. and you may even be able to sweep it with a broom. Crumbs are hard to get out of a highly textured natural fiber rug.
Do you ever extend your table with table leaves? If so, you may want to take that into account when you buy your rug and get one that is long enough to accommodate the extra length.
Materials like wool, synthetics, or even outdoor rugs work great for dining rooms. Natural fibers like jute work as well, but they tend to stain more easily.
If you want to know more about the different materials and styles of rugs, read this article about 10 rug styles explained.
Want to know more about laying out your dining room? Here's our blog on the perfect dining room layout.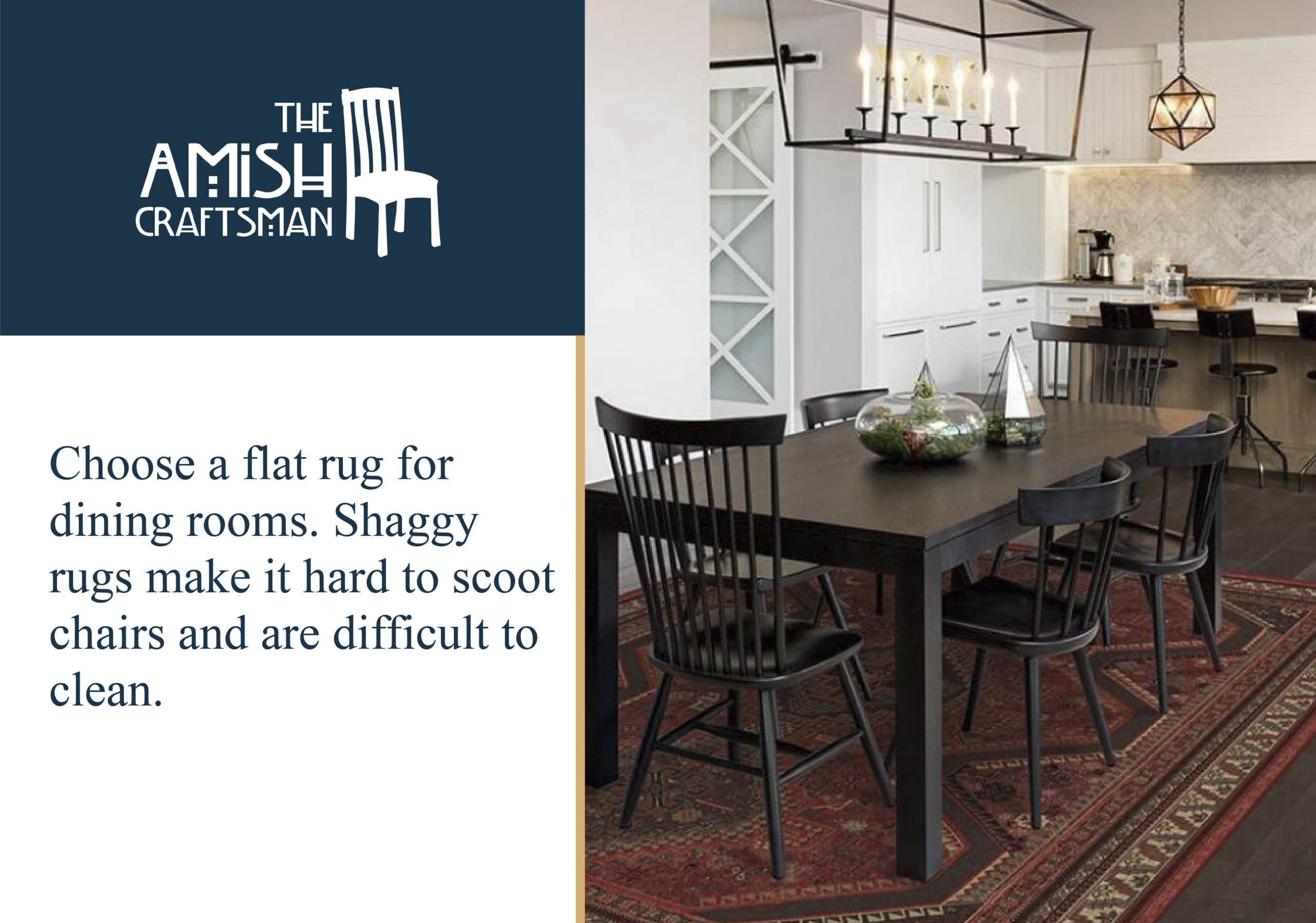 Conclusion
It can be a challenge to find and place the perfect rug.
But a well-chosen and well-placed rug can really make a space sing!
At the Amish Craftsman, we have two collections of rugs you could try – Arts and Crafts Rugs and Craftsman Rugs. Check them out online or visit our showroom and see them in person!
While you are there, check out our other products, like our living room furniture, dining room furniture, office furniture, bedroom furniture, and home decor.
We make it easy to find just the right rug:
Look through our selection online or in the store.
Pick out your design and size
Enjoy your new rug!
If you don't see what you are looking for, come to the store and let our experienced design team help you find the perfect rug.
We look forward to hearing from you!