What a year it's been! If we can all come together on one issue, it's that we're ready to say GOOD RIDDANCE to 2020! But hold your horses – the year really wasn't that bad. As we pause and reflect on this rollercoaster of a year, we realized we have so much to be thankful for. We've come up with our top 10 reasons why we'll actually have fond memories of 2020.
10) New Rugs
We brought on a new line of hand-knotted rugs this year that are ridiculously awesome. The wool used in the production of this carpet is derived from sheep that graze in the Himalayan mountain range of Tibet at altitudes of 12,000 feet and higher! Due to this high altitude and extreme cold temperatures, the wool produced has unusually high lanolin content. It's the lanolin content that gives wool a natural stain resistance and a very soft feel to the touch. It's considered the finest wool available in the whole world!
9) You Helped Us Give Back
Thanks to your generosity, we made a very big donation to a local nonprofit this year. We held our annual Kids' Meals Donation Drive this summer. Your support came pouring in and we donated over $7,000 to help feed some of Houston's hungriest preschoolers. That's over 3,500 sack lunches! We even got to pack a few of those ourselves. Kids' Meals is a wonderful organization that is really making a difference in Houston. We encourage you to check them out!
We also were honored to be a silver sponsor of the 2020 Holiday Shopping Card this year. As always, y'all came out in droves wanting to support the American Cancer Society. We raised $$$$ for the ACS! 100% of those proceeds go directly to fighting cancer. How great is that?!
8) New Upholstery Line
We're excited to announce we have a brand-new line of upholstered living room furniture coming our way! The Amish Craftsman is the ONLY place you will find this exclusive line in all of Houston! We are thrilled to become a dealer and know you will appreciate the style and quality of their furniture as much as we do.
7) New Online Store
As a local small business, we've always looked for better ways to bring you the best hand-made custom furniture. With the change in business due to Covid-19, we decided to open an online store to give you as many options as possible when choosing to work with us. Now it's easier than ever to shop our clearance items! Order online and come pick it up at our store OR have it delivered straight to your door.
6) Best of the Best – Furniture
Ahhhhh! This is a big one – one we're still beaming about. This spring our fellow Houstonians voted us the BEST furniture store in Houston! We've never had the goal of being the biggest furniture store out there, but we have always wanted to be thought of as the best. And this year, that goal was achieved! To be honest…we were really excited just to be nominated! And, to our surprise, WE WON!
5) Best of the Best – Mattresses
Did you know we're a mattress store too? Yeah, well did you know we were voted into the top 3 BEST mattress stores in Houston? Our Amish made mattresses are pretty spectacular. You won't find a better made mattress. Come check them out for yourself. They are the perfect complement to the quality of our Amish beds.
4) ASID Industry Partner + Trade Program
We joined the American Society of Interior Designers and became industry partners! That probably doesn't mean much to you as the average customer… but we're super excited about it! If you know any interior designers send them our way! We launched a brand-new trade program that will offer them exclusive benefits.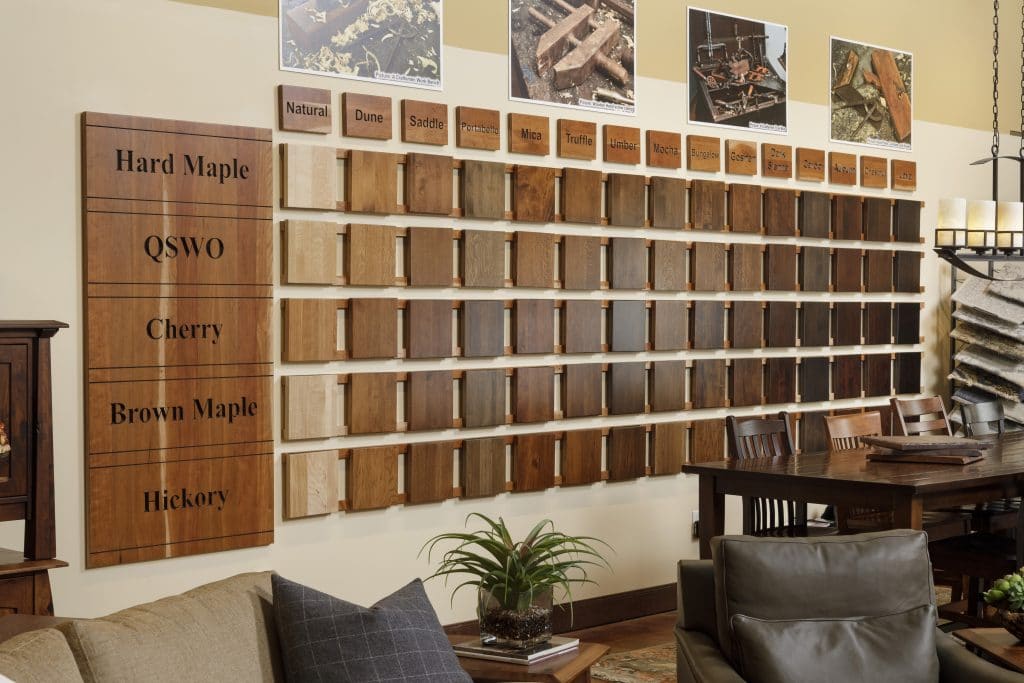 3) New Stain Wall
We updated our showroom with a beautiful new stain wall! Did you know the same exact stain formula can look VERY different on various wood species? Our stain wall helps you make the best decision when choosing your wood and stain.
2) Free Polish for Life Club
We started a new club this year for all of our customers! When you purchase from us, you're automatically enrolled in our Polish for Life Club! You get FREE Guardsman Furniture Polish for life! We love our customers, and this is just one more way to say thank you. We want your furniture to look as good on day 1000 as it does on day one.
1) We're Still Here!
Our number 1 reason we can look back and smile on this year is simple – we made it. We survived! Many small businesses weren't so lucky. And – if we're being honest – luck had nothing to do with it. We couldn't have made it through this year (or any other for that matter) without YOU. Thank you from the bottom of our hearts. We're still going strong and have BIG plans for 2021.
---
So, what do we have to say to the year 2020? Thank you. Without a year like this, we never would have known just how strong we really are.